If one song of a Director-Singer-Music Director-Lyricists emerges a hit, automatically, the listeners want to listen to their songs again and again per force. For the last few days, Director Milind Kavde has been constantly in the limelight thanks to the film Ek Number. The song Baburao… in the film has been sung by Anand Shinde. Incidentally the song was written by Jai Atre and composed by Varun Likhate. Earlier, the foursome had created the hit song Tuzi Chimani Udali Bhurr… as well as Aapla Haath Jagannath… which had turned out to be superduper hits and have managed to steal the limelight once again thanks to the song Baburao… Sanjay Chhabria of Everest Entertainment is all set to enable the songs of the film Ek Number to reach the audiences.
The film Ek Number has been produced by Mahesh Shivaji Dhumal, Jitendra Shivaji Dhumal and Milind Kavde under the banner of Dhumal Productions with the co-operation of Out of The Box and is slated for release on February 11th, 2022. The song Baburao… has been picturise on Prathamesh Parab and Madhuri Pawar for which Rahul Sanjeer has cranked the cinematography. Madhuri who is the winner of the Zee Yuva Apsara Aali has acted in quite a few serials as well as films till date. She also has the identity of being dancer, Tik-Tok star and social media influencer. Madhuri who is versatile with different types of dances will be able to ensnare the audiences with Prathamesh Parab in the dance in the film Ek Number.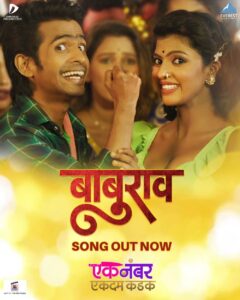 Talking about the song Baburao…, says Milind Kavde, "There is a great fan following for the voice of Anand Shinde all over the world. The innumerable people who love his songs will get mesmerised with his voice in the number Baburao… The whole world has experienced the magic of his voice with the song Baburao… in the film Ek Number, people will be able to enjoy a different facet of his versatile voice. The song has been penned by Jai Atre and set to tune by Varun Likhte. Milind says that he is one hundred percent confident that the audiences will dance to the tune of the song when it unfurls in his film.
Besides directing the film Ek Number, Milind Kavde has also written the story and the screenplay, while the dialogues have been penned by Sanjay Navgire. Once again Prathamesh Parab plays the lead in Milind Kavde's film, besides actors like Milind Shinde, Ganesh Yadav, Nisha Parulekar, Abhilasha Patil, Ayli Ghiya, Hrishikesh Dhamapurkar, Akshata Padgaonkar, Pranali Sanghmitra Dhaware, Sumit Bokse, Sunil Magre, Harish Thorat, Aakash Koli etc. Abhinay Jagtap has scored the background music, Pranav Patel has edited the film. Hazrat Shaikh Wali is the DOP who has cranked the camera, the writing of the screenplay has also been assisted by Sanjay Navgire and Sunil Magre.