Adah Sharma who is known for her unique choice of roles will next be seen in an Eros Now original series titled Aisa Waisa Pyar where she is paired opposite a dog. The web series will stream on Eros Now from 27 October 2021.
Adah says, "I'm very excited to be paired opposite Happy the dog. I try with each film to do something different right from my Debut 1920 to action in Commando. I do not identify with my character in Aisa Waisa Pyar that's why I had so much fun playing a bitch!"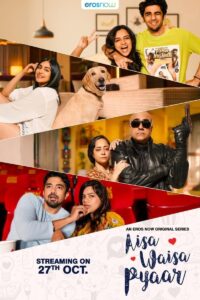 Ashish Patil, the director says, "Adah Sharma is one of the best actors I have worked with till now. All of us on the set were ready to shoot a special emotional sequence with Adah. It was a 60-second shot but needed complete focus from Adah. When she completed the shot, all of us including me were numb with emotion. Adah had completed it in one take! And she had given such a beautiful performance in that sensitive sequence, that everyone present on sets, from the Spot boy to the Videographer had tears in their eyes!"
Aisa Waisa Pyaar stars Adah Sharma, Saqib Saleem, Nidhi Singh, Prit Kamani, Ahsaas Channa, Taaha Shah, Rajit Kapoor and Sheeba Chaddha. Helmed by the Culture Machine and Directed by Ashiish Patil, every story being presented in this bouquet has a unique flavour to it. Adah Sharma's tale narrates a story about a girl who lost her childhood sweetheart to cancer and in between her sorrow finds a reason to give love another chance.
Adah will next be seen in Commando 4, the Holiday season 2, a Telugu film with Nanis Production which she has just completed called Meet Cute, an international action film and two more Hindi films which promise to be something different from the usual.