Keeping with the spirit of uplifting women across different socioeconomic backgrounds, the cast of ALTBalaji's Helllo Jee visited the Khushiyaan foundation to celebrate the show's success. The lead actors in the series Nyra Banerjee and Mrinalini Tyagi visited the slums in Mumbai suburbs through Khushiyaan to raise awareness around sanitary habits. The idea was to normalize conversations around feminine hygiene and attempting to remove taboos and stereotypes surrounding women's menstrual cycles. They also educated these women and helped them with sanitary pads and other hygiene products.
Link: https://instagram.com/stories/altbalaji/2501591250748417687?utm_source=ig_story_item_share&igshid=1u2jnrprja9sg
Khushiyaan is an NGO with a lot of ideas. They have made it their mission to ensure decent food reaches women and children and their environment is as clean as possible. Also advocates the importance of education and women empowerment. Hence when the Helllo Jee team felt they had to do something to give back, Khushiyaan foundation is the NGO they decided to go with, given their exemplary work.
"I want to thank team ALTBalaji for choosing Khushiyaan Foundation & joining hands in our journey of empowering women. It's great to see such down to earth celebrities like Nyra and Mrinalini who educated our women on menstrual hygiene and distributed the hygiene kit. I wish all the best to the team of #Helllojee & ALTBalaji" – Mr.Chinu Kwatra, Founder, Khushiyaan foundation.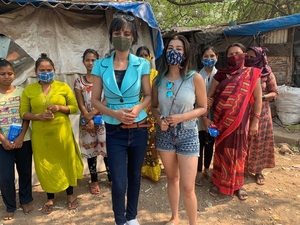 "There is no denying that doing something to give back makes you feel an unbelievable wave of peace. I am so happy that we decided to do this as a team. It makes perfect sense since Helllo Jee is about inclusivity and empowerment. It is a truly satisfying feeling to be practicing what you preach" – Nyra Banerjee, Actress (Angelina)
"I am so grateful that I got the opportunity to be a part of something big like this. The feel-good vibe you have after doing something like this is irreplaceable. I wouldn't exchange this feeling for the world. I'm so glad I've gotten to interact with these wonderful women and spend quality time with them" – Mrinalini Tyagi, Actress (Saroj)
Helllo Jee, an ALTBalaji original, shows a group of women who become tight-knit once they bond over their shared struggles in a male-dominated society. The star cast includes Nyra Banerjee, Mrinalini Tyagi, Akshaya Shetty, Kashish Rai, Rahul Sharma, Nitin Rrao and, many more talented actors. The women in Helllo Jee remind each other of their hopes and dreams and help uplift each other and push each other to be the best they can be. The series and the activity complement each other so well; it brings a tear to the eye.
Helllo Jee is now streaming exclusively on the ALTBalaji platform. Make sure you watch this entertaining and empowering show with these powerful women.