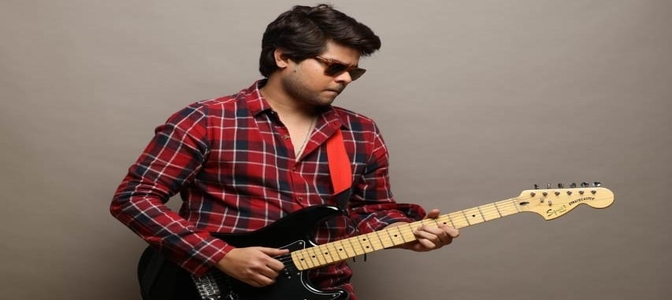 Gaurav Dutta, in his first release on TM Music, hits a strong emotion with his single 'Jammu Sheharan'. The song is about a boy's longing to revisit his hometown and meet his mother.
The artiste says, "'Jammu Sheharan' is the kind of song which can't be heard casually; to truly understand the song you have to let it flow through you and feel it. More than a song, it's an emotion. More like a conversation between me and my mother. The song would not have been possible without the effort of the great musicians and the whole team behind it. I know that people in and from Jammu are going to relate to this song instantly but it's not just about Jammu and its people, it's about everything in its true sense giving meaning to our lives on a day-to-day basis. These feelings come to every individual at some point in their life. I hope this song gives strength and perspective to those who are trying to decode a complexity of similar thoughts, like those in this song, and it inspires them."
Gaurav is a multi-faceted musician and a winner of the reality show – Jammu and Kashmir Idol 2012. His accolades also include three wins for The Golden Guitar Festival and one for Pandit Uma Dutt Sangeet Mahotsav, along with many others. Gaurav's connection with the song 'Jammu Sheharan' comes naturally from his being born in the Jammu district. When asked about what inspired him to write this song, he said, "I wasn't thinking of anything in particular or any idea when I was creating the composition. This song is a perfect amalgamation of my thoughts and music which happened to flow through me at that time. I was in a state of bliss when I was creating this track." The multi-talented artiste has written, sung and composed the song so beautifully that it automatically tugs at the heart strings.
When asked about his collaboration with TM Music, Gaurav said, "Tarsame Sir has done a great job in taking this concept forward and in making me a part of such an amazing team. More than a collaboration it's a bond of trust and love. Even Sunny M.R. Sir has done a great job in giving purpose to the song musically. I'm touched and would like to take this opportunity to thank each and every one who's been part of the project. The song has been a roller coaster with its challenges that eventually made us reach a beautiful place."
The video for the song has been shot in the northern plains of Jammu. The serene ariel views of the place are magnificent. From lush green farmlands to old brick houses, from children playing on the streets to the mother – son interaction, the video captures every nuanced emotion of the song.
The song released on 8th of September, 2020.