There is another news making Jammu and Kashmir proud on international front, a middle class youth from Fazalabad area of district Poonch wins a top award at USA top film festival; MIFF 20- Montgomery International Film Festival-2020.
Zahid Qureshi first actor from Jammu and Kashmir who has made a history by wining best supporting at USA.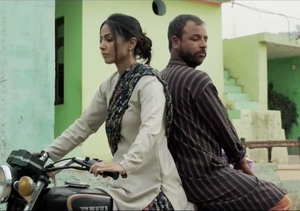 For Hina Khan fans- Lines is the same film for which Hina Khan debuted Cannes for first look launch and made India proud at International platform. Now another feather on the cap is its four nominations including Best actress, best director Hussain Khan, best film and best supporting actor Zahid Qureshi. Finally the film won two top awards; best actress Hina Khan and best supporting actor Zahid Qureshi competing with international cinema at one of the largest platform. MIFF 20- Montgomery international film festival is one of the top festivals in United States of America.
The film has veteran actress Farida Jalal in a prominent role along-with Hina Khan in a very promising lead. Zahid Qureshi; an actor who belongs to Poonch area of Jammu and Kashmir, comes out as a surprise as he wins this award. Zahid still lives in a village called Fazalabad in Poonch. On asking Zahid says, "For me acting is like breathing, this is something in my soul and I am not in the race to get roles and struggle in Bollywood, for me my art is my being, I cannot just go out and sell it on a shop. If someone finds me worth and asks me to do a role then I am honoured and I do that."
Hina Khan also sends her best wishes and warm congratulations to Zahid Qureshi on winning, Hina says, "I can't express my happiness on winning this award but for me I am more happy for Billa (Zahid Qureshi) because I used to love his character and they way he was doing it."
The film is written by Shakti Singh and Rahat Kazmi produced by Rahat Kazmi Films, Tariq Khan Films and Zeba Sajid Films and Co produced by Hina Khan's banner Hiro's Faar Better Films, Alphaa Productions and Assad Motion Pictures in Association with Fankaarz.