Ever since its first episode was aired, Beyond Dreams' Rakshabandhan… Rasal Apne Bhai Ki Dhal has been successful in entertaining the masses through its unique story. Having received immense love and appreciation in the last few months, the untiring efforts of the cast and crew has finally paid off as the show recently clocked its first milestone and stepped into the 100-episode league. Apart from the lead cast Nyrraa M Banerji, Nishant Malkhani, actor Soneer Vadhera, Varsha Sharma were present.
Commemorating their first step towards success, the cast and crew members rounded up at the set to have a small cake-cutting ceremony while keeping all the precautionary measures in mind. While relishing the milestone, Nyrraa M Banerji and Nishant Singh Malkhani were on cloud nine and just couldn't control their excitement.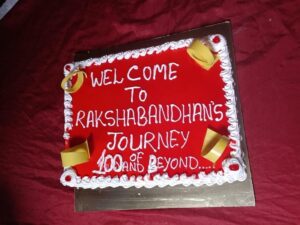 Stating her joy, Nyrraa said "I cannot share or express how happy I'm. After lockdown, having such an interesting show Rakshabandhan… Rasal Apne Bhai Ki Dhal with high emotions and performances was great. Witnessing the audience love for our concept and wanting to see more of us is a blessing that has helped us reach here today. I am so grateful." On asking about the set ambiance Banerji adds,"Our entire cast comprises of peaceful personalities. No tantrums , no diva-ing. No ego trips. We are all here to create amazing scenes and do our best. Everyone Is open to accepting suggestions and advices and implement them. Because we all know we are here to make a great show."
Adding more, Nishant shared "I'm honestly overwhelmed seeing the kind of success the show Rakshabandhan… Rasal Apne Bhai Ki Dhal has received. I was confident that the concept and characters would be loved by the audience but now that we have actually hit a successful milestone, it all feels really surreal. It takes me back to the time when I was really nervous about how my character would be perceived. Today I know for a fact, that out hard work has paid off and our viewers are constantly supporting us. The journey so far has been a roller-coaster ride, but to get to this stage while crossing all the hurdles is what makes me, or for that matter everybody happy. We actors crave for appreciation and acknowledgment from our viewers, and when that seems to pop-in, nothing else matters. So honestly, today is one of the happiest days of my life, and I'm going to celebrate it with all my fellow co-stars and cast members who are equally excited about the win."
While the cast and crew are busy relishing their first win, we expect more and more milestones from the show.