ALTBalaji and ZEE5 are raising the curiosity levels by releasing multiple clues around their latest medical thriller series LSD – Love, Scandal & Doctors. They recently dropped a video featuring Kabir, fondly known as Suspect No. 5, played by the extraordinarily adorable and dashing Ayush Shrivastava.
Link: https://www.instagram.com/p/CKv-jjPKGJd/?igshid=16dtfp3sw3v5f
Kabir has always been a person who wanted to grow and do better and make a real career on his own. He loved his work and believed that it was equivalent to worship. Despite being born with a silver spoon, Kabir chose to take the road less traveled and follow what we see as a noble profession. As a result of his wealth, most people think he has it easy, but just like everyone else, Kabir is also fighting battles that we don't know.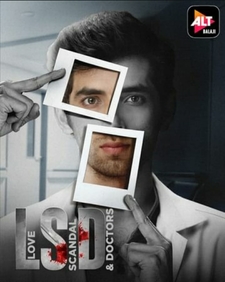 He has a nervous demeanor with sudden outbursts of emotion and temper, calls himself the weakest link, does not see his potential, and is intimidated by everything. Often underestimated by his peers, but are they right in ruling him out as a significant contender just yet? He sometimes feels overwhelmed with the competition, but people always surprise you. Everyone has secrets, after all.
"Kabir is an extremely underestimated character who has so many dimensions to his personality but isn't very forthcoming. Hence, he is often overlooked and how he deals with the internal struggles which make his nervousness a very obvious trait to watch out for. It takes a minute for the viewer to understand that Kabir is so much more than they could ever imagine. Playing Kabir was an extremely enjoyable experience and the whole cast and crew made the work environment very pleasing and cheerful," Ayush Shrivastava
The other people in the cast of ALTBalaji and ZEE5's newest murder-mystery are Rahul Dev, Punit J Pathak, Siddharth Menon, Tanaya Sachdeva, Srishti Ganguli Rindani, and a whole bunch of others. The talented Sattwick Mohanty directed the series.
Stay tuned to ALTBalaji and ZEE5's pages for more updates and inside stories on this series.