Rudrakshi Gupta was trending in the news recently and she's none other than the actress who played Arshad Warsi's wife in Munnabhai. She is now seen as Preeta Chachi in India's First Rural Entertainment Channel, Azaad's new show Meri Doli Mere Angana as the lead protagonist, Janki's Chachi. The role is that of a dominating personality, power hungry, selfish, ambitious, manipulative, wicked minded woman who pampers her son and wants him to be the family heir. Belongs to Uttarakhand, Rudrakshi Gupta best work includes Chal Man Jeetva Jaiye, Aap Ke Aa Jane Se  and Jasuben Jayantilaal Joshi Ki Joint Family amongst others. Here, Rudrakshi Gupta talks about her new show and more.
What made you accept Azaad's new show Meri Doli Mere Angana?
It was the concept of the show that appealed to me.
Tell us about your role in the show?
Different shades of the character attracted me to perform with all my acting skills. Playing Preeta Chachi is a challenge as she is always up to tricks to ensure what she wants happens.
Azaad is for the rural audiences? What is in the story that makes you see it as different from regular shows?
I will recommend this show for the rural audience because it has all the relationships and themes which they are dealing with in their daily lives.
How did you prepare for the show?
I went through the script and the language & tried to prepare myself for the character.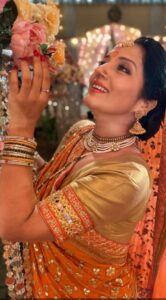 How is it shooting in the middle of the ongoing pandemic?
Situation is very critical but the crew is taking all the precautions to ensure our safety.
Tell us about your early years and how you became an actor?
I am a trained classical dancer. I learnt Kathak 14years under the guidance of Pt. Birjumaharaj ji. I found similarities between dance and acting because both the forms are about expressions.
Tell us about your work done so far?
I have worked with eminent director Rajkumar Hirani ji, Prakash Mehra ji, Siddharth Malhotra ji. I have done a Hollywood film Return of Rajapur and worked with all the big stalwarts of TV industry. Just completed a film with Yashraj banner.
Why is working on TV appealing to you?
We are visible to every household in our country.
What's your favorite hobby?
Singing, dancing and painting
Which is the place you would like to holiday in?
Paris and Switzerland
What is important to you?
My work is my passion. And I find immense satisfaction when I find myself in front of camera. It fills with great energy and positivity.
Being Azaad means what for you?
Freedom of expressions, Freedom of thoughts. Being Azaad for me means that you can be independent and free. I don't want anyone to stop me from accomplishing my dream.
Watch Meri Doli Mere Angana at 9 PM, every Monday to Saturday, on Azaad. The channel is available on Tata Sky 183, DD FreeDish Channel no 36 and free on MX Player.