Vaarun Bhagat has played one of the most spectacular characters in the Bollywood industry. The actor has a massive fan following and has gained recognition because of Sony Liv's most popular web series, Undekhi. This hottie played the role of Lucky in the show and grabbed the spotlight with his rugged persona and charm.
For an actor, being recognized for their work is the most exhilarating. And Vaarun, who is most loved for his character Lucky by viewers all over the world, expresses his gratitude for all the recognition and says, "It is truly an incredible feeling to be recognized by my character Lucky and not Vaarun. Still, wherever I go, people call me Lucky. Whether it's in India or abroad. The reach of the Undekhi is so unbelievably wide that people have recognized me and stopped me in places like Dubai. "It's a great feeling when your hard work pays off."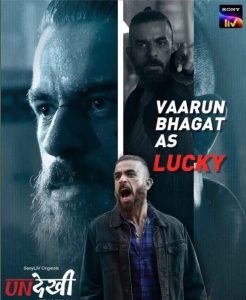 The actor also went on to say, "I am very happy; honestly, I am not like Lucky that in real life but still, I can empathize and sympathize with him. He is a great character and has lots of colors. And I can't wait to show what more colors Lucky has."
The series was created by Sidharth Sengupta, was officially released on Sony LIV' and is being produced by Applause Entertainment and Bani Jay Asia. The series depicts the two aspects of the society – the power-drunk influential people who think they can get away with anything and the oppressed, subjected to years of torture, who finally decide to bring themselves to justice.
Apart from that, on the work front, Vaarun was also seen in the series Udan Patolas, and Dulha Wanted. Apart from that, Vaarun Bhagat will also be a part of Sidharth Sengupta's next which is Aar ya Paar. There are a few more things in the pipeline for the actor, which will be announced soon.