The poster of the upcoming movie URMI which has a great plot and a strong star cast was launched on social media on the occasion of Valentine's Day. The movie will hit the screens on April 14. From the name of the movie, it is felt that the movie is female centric. The film stars Chinmay Udgirkar, Sayali Sanjeev, Rasika Sunil, Nitish Chavan and Madhav Abhyankar.
Sammruddhi Creation's Dr. Praveen Dattatray Chaudhary has produced the movie URMI. He has also written the story and lyrics for the film. Dr. The film is co-produced by Dr. Chaitali Praveen Chaudhary and Maltibai Dattatray Chaudhary. Rajesh Balkrishna Jadhav has directed the film and written the screenplay and dialogues. Music by Vijay Gatlewar and Utpal Chaudhary, Cinematography by Kaushal Goswami, Editing by Anant Maruti Kamat and Executive Producer is Mahesh Gopal Bharambe. Music on Zee Music Co.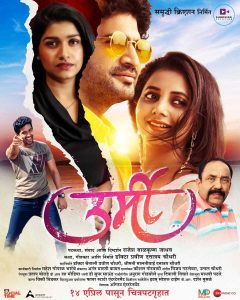 The make-up is by Pratap Borade, sound by D Super Sound, DI by Rush Media, background score by Anurag Godbole, choreography by Deepali Vichare, costumes by Madhavi Pathare, art by Vicky Bidkar, visual promotions by Fire Starter Entertanment, Digital Marketing by It's Social Time, PRO Darshan Musale of Media Planet and distribution by August Entertainment.
Sayali Sanjeev has appeared in Marathi films Basta, Jhimma, Goshta Eka Paithanichi and AB Aani CD. She began her TV serial career with Kahe Diya Pardes of Zee Marathi and Marathi film career with Atpadi Nights and then Tanaji Ghadge directed Basta.  In 2019, she worked in a drama film, Goshta Eka Paithanichi and 'Rajshri Marathi' YouTube channel's 5 episode web series, 'U Turn'. In 2021 she worked into a web series, Shubhmangal Online of Voot application. Chinmay Udgirkar has done films like Shyamche Vadil, Vaajlaach Paahije, Gulabjam, Premwari, Makeup, Vajvuya Band Baja along with many TV serials like Aggabai Sunbai, Sakkhe Shejari, Ghadge and Suun and more.