From the award-winning film 'Shala' to 'Phuntroo', director Sujay Dahake has always tackled diverse subjects and experimented with innovation. He is coming up with a film on a subject that has never seen before. On the occasion of this film, a discussion will be started on a unique topic. Based on the emotional world of children, this film has comprehensively considered some important points that arouse curiosity. The poster of this film titled 'Tujhya Aaila' has been launched recently.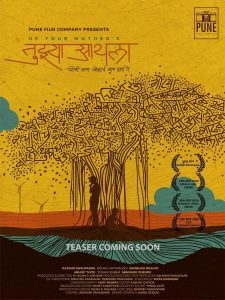 Presented by Pune Film Company, 'Tujhya Aaila' is directed and produced by Sujay Dahake. Ashwini Paranjpe is the producer and executive producer of the film. The film is co-produced by Meghna Pramanik and Debashish Pramanik. The poster of this film has been launched through social media. Netizens are expressing themselves abundantly on this poster which arouses curiosity. The tagline 'Shivi Naay Khelacha Naav Haay Te' written along with the title 'Tujhya Aaila' explains the focus of the film. Accordingly, the drawing on the poster of the movie 'Tujhya Aaila', which was released, shows a tree and two children under it. Many words like Goat, Ghost, Knife, Chandi, Tar (Dambar), Hulk, Doctor, Cannon, Chivda, Marbles (Gotya), Lemon, Coconut, Bull, Donkey are also encraved on the tree. From this, it is clear that this movie is about a unique game as per the tagline. The film, which was praised at the 50th Indian Panorama, won three awards at the 18th Pune International Film Festival: Special Jury Award, Audience Choice Award and Best Cinematography. Director Sujay Dahake says that this film will take the audience on a journey to a unique world and will show an amazing picture that they have never seen.
The screenplay of this movie has been written by Niaz Mujawar. Rajshree Deshpande, Rohini Hattangadi, Sambhaji Bhagat, Abhijeet Thite, Soham Babar, Abhishek Zende and others have acted in this movie. Vijay Mishra has done the cinematography and film edited by Ashay Gatade. Saket Kanetkar has composed the background score and Pinak Agte has handled the location sound. Namdev Waghmare has designed the costume and Sujay himself has designed the production. Aiba Design has decided the brand strategy and casting has been done by Ashwini Paranjape.