Actor Vishal Vashishtha has not only made a mark in the television industry but is also taking the digital space by storm. He is currently playing a remarkable role in Dice Media's ongoing series Clutch which is touted as India's 1st eSports based web series. Essaying the role of a pro gamer, Vishal talks about the importance of team bonding be it in the game, while shooting, or even off-camera.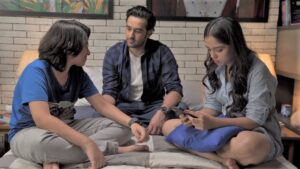 Vishal, who has been in the industry for quite some time now, has some interesting things to say about his youngest co-star Tirth Joisher. Tirth who played the character of Adil was also one of the founding members of the team along with Arun. It was Adil who pushed Arun to give gaming another chance, create a team and participate in the esports tournament. In reel life, it was esports that helped Adil and Arun bond whereas, in real life, it was Tirth's vibrant energy and childlike innocence that broke the ice and developed a great bond between all actors. Vishal shares "Having been the youngest actor on the set of Clutch, Tirth Joshier, was undoubtedly the most pampered by everyone. Always up to some mischief, Tirth would go around convincing everyone to play Battlegrounds Mobile India in between shots. We've had a love-hate relationship with Tirth throughout our time together, but I must admit that it was his pumped-up enthusiasm that brought fun on the sets. I loved bullying him when he was around on the sets but would actually miss having him on his off days."
With the growing love for the duo, the audience is surely curious to know if Adil will make it through in a major esports tournament with the support of Arun?
Watch Vishal Vashishtha break the chain of reality and follow his dreams with Tirth Joshier's support in the exciting web series "Clutch" on Dice Media's Youtube channel.