Tips Punjabi is all set to release their upcoming co-production 'MOH' in association with Shri Narotam Ji Studios and Orion Studios. The trailer has recently been released and is already trending on social media platforms.
Starring Punjab's most loved actor Sargun Mehta and singer Gitaz Bindrakhia, 'MOH' is a coming-of-age love story packed with pure emotions and heartbreak. It shows a boy falling head-over-heels in love with a mature woman. With time their feelings grow stronger but their love never meets its fate. The powerful trailer is packed with hard-hitting dialogues and gives a thunderous insight into the characters.
Trailer link
Girish Kumar says, "MOH is a very special film, right from its inception we have been emotionally attached to it. With Jagdeep helming the project packed with a powerful cast of Sargun Mehta, Gitaz Bindrakhia with lyrics of maestro Jaani and music by B Praak, the film is bound to live with the audience forever."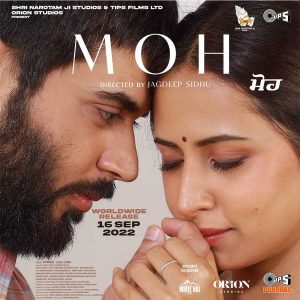 Sargun Mehta says, "What enticed me to MOH is the fact that there's never been a poetical drama and also the storyline is so impactful that it will resonate with the audience. And working with Jagdeep Sidhu is always new learning as he pushes us to perform our best."
Jagdeep Sidhu says, "MOH is close to my heart. Jaani and B Praak have added a beautiful layer of emotions via their music for this first-ever poetical film. With Sargun and Gitaz in the cast, it is bound to be loved by the audience."
Along with the leading star cast, the film also stars Amrit Amby, Prabh Bains, Prakash Gandhu, Balraj Sidhu, Sukhdev Ladhar, Aman Suthdar, Ikatar Singh, Jashanjit Gosha, Parminder Barnala, Anita Meet, Kumar Ajay, Kulwinder Sidhu, Vikram Pannu and Fateh Siyan.
The biggest emotional drama of the year will release on 16th September worldwide.