Tips Original's SAZAA, rendered by the music magician Sameer Khan in his soulful, emotive romanticism, composed by the star composer Shameer Tandon & penned by Sameer Anjaan that will touch your heart.
A purely soulful opening with acoustic guitar leading up and deep orchestra building up slowly in as the crescendo builds up. Sameer complements it perfectly with starting off soft and then taking it all the way to the high notes in a seamless and perfect tonality.
The lyrics are simply gorgeous with strong romantic influences. The deeply emotional happiness of the character and the madness for love is quite neatly weaved together.
In a fortunate coincidence, Sazaa has brought the three mavericks of music – Sameer Khan, Sameer Anjaan and Shameer Tandon for a single.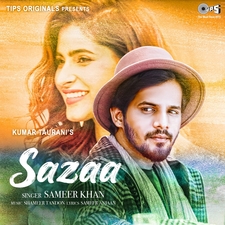 Kumar Taurani says "We rarely come across songs like Sazaa which are not only musically and lyrically rich but also have qualities to connect with the audience instantly"
Sameer Khan says, "Sazaa released today on my birthday, best gift. I would like to thank Kumar Taurani Ji and the entire team of Tips Music for amazing opportunities."
Shameer Tandon says, "This is the first amongst many romantic and melancholic tracks that I have produced for Tips. Sazaa pyaar ki is a track that will resonate will all who have loved and lost."
Sameer Anjaan says, "Love is both beautiful and Sazaa. It took me a while to write the lyrics of this beautiful track, however in the end, we hope people love the lyrics as much as we do."
Director Kookie Gulati says, "Sazaa is an aesthetically pleasing song. We have tried to keep the backdrop fresh and youthful."
Karishma Sharma says, "It's a beautiful track. Working with Tips Music was an outstanding experience. When I was offered to feature in the song, I was happy to be a part of it with a brilliant team."