Tiktok fame Suraj Chavan, who communicates with millions of people in his funny language and delights everyone with his famous dialogues "Goligat" and "Bukkit Tengul", will now be seen on the silver screen in Sahyadri Film Production's upcoming Marathi film KA RE DEVA produced by Prashant Shingte.
Suraj Chavan, a resident of Modve village in Baramati taluka, had a very difficult life. He had lost his parents and he considers Maharashtra as his parents. The producer of the film Prashant Shingte, also met Suraj through social media and gave him a chance to work in his film.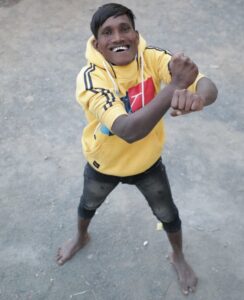 "TikTok made me big overnight and I reached out to the world. Prashantji came to my house to meet me personally and I was pleasantly surprised when he offered me this film. I could not have imagined that a film maker can reach home of an illiterate child like me. I have portrayed the role of a college boy in a way that suits my style and I hope the audience will like it," said Suraj.
The film is written and directed by Ranjit Dashrath Jadhav. The film stars Monalisa Bagal, Mayur Lad, Jaywant Wadkar, Arun Nalawade and Nagesh Bhosale. The songs are composed by Sushant Mane and Tansen Lokare have been composed by Sandeep Bhure. Well known singers Anand Shinde, Adarsh ​​Shinde, Madhur Shinde, Dr. Neha Rajpal, Supriya Sorte have composed the melodious songs of the film.
The film will be screened across Maharashtra in the month of February.
Producer: Prashant Shingte
Director: Ranjit Dashrath Jadhav
Music Director: Sandeep Bhure
Singers: Aanand Shinde, Aadarsh ​​Shinde, Madhur Shinde, Dr. Neha Rajpal, Supriya Sorte
Executive Producer: Ashwnin Bagal
Production Controller: Hemendra Bhosale
Location Manager: Amol Shingate
Publicity Stills: Prasanna Bapat
Post Production: Eye Focus
Visual Promotions: Sameer Shaikh
Social Media: Visual Junkies
P.R.: Darshan Musale
Publicity Design: Milind Bhatkar
Distributor: Sunshine Studios