2022 witnessed some phenomenal movies and web shows launched on OTT platforms and YouTube channels that kept the audience engaged throughout the year. Web shows have become a constant source of companionship and entertainment for viewers. Fans have enjoyed watching versatile actors returning to screens after long- breaks in their acting careers in 2022. Some of them showcased talented performances from Sakshi Tanwar in Mai to Shakti Kapoor in the anthology series Bravehearts, Sushmita Sen in Aarya, and many more. This year has been no different, so here is a list of the best web series of 2022 that we think you definitely shouldn't miss out on before bidding this year goodbye.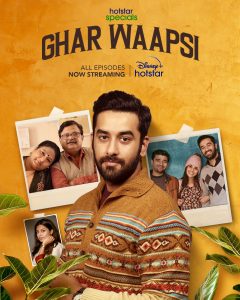 Ghar Waapsi
Ghar Waapsi is a touching series created by Dice Media that revolves around Shekhar a young boy, who returns to his hometown in Indore after getting fired from his job in Bengaluru. While he decides to keep it a secret from his family, his life takes a new turn. Shekhar gradually finds himself on a road to self-discovery. Starring talented actors Vishal Vashishtha, Anushka Kaushik, Atul Srivastava, Vibha Chibber, and Akanksha Thakur, the series was a super hit this year and is definitely worth the watch. The journey of Shekhar emphasizes how a family is one's strength and that should always be valued and cherished. The series is available on Disney + Hotstar to stream.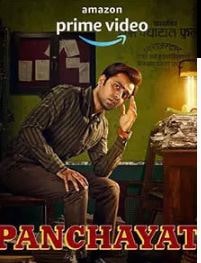 Panchayat  Season 2
Panchayat is an Indian comedy-drama web series created by The Viral Fever and released on Amazon Prime Video. The show is a hilarious take on the life of an engineering graduate, Abhishek, who struggles to find a job of his caliber. He ends up working for a panchayat in a remote Indian village and dealing with several challenges he had never encountered before. As each episode progresses Abhishek (Jitendra Kumar) tries coping with this job and he grows fond of members of the village eventually leaving him happy and content with his work. The series features popular faces such as Jitendra Kumar, Sanvikaa, Raghubir Yadav, Neena Gupta, Chandan Roy, Durgesh Kumar, Ashok Pathak, Faisal Malik, and Sunita Rajwar.
Four More Shots Please Season 3
Four More Shots Please! is a unique Indian comedy-drama series launched on Amazon Prime Video, that narrates the lives of four friends from different walks of life who deal with romance, work-life conflicts, ambitions, and anxieties in the modern-day world. This chick-flick is worth the watch and much relatable to the audience of this age streaming on Amazon Prime Video. Touching upon topics like LGBTQ, marriages, and single moms, each of their stories and struggles is definitely worth knowing and watching. The twisted yet funny tales of these four BFFs, starring gorgeous Sayani Gupta, Kirti Kulhari, Gurbani, and Maanvi Gagroo must surely be on your bucket list this month. The three seasons will take you on a trip of fun and thrill of these middle-aged women coping with different circumstances that come along their way.  The latest season of the show was released in October 2022 this year.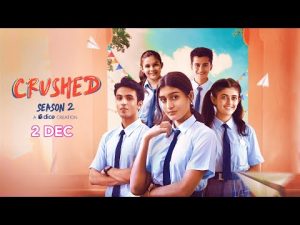 Crushed Season 2
Taking fans back to an eclectic memory lane to school, Crushed is a high-school drama series created by Dice Media. Bringing back fun school memories, the web show featured talented stars like Aadhya Anand, Naman Jain, and Urvi Singh reprising their roles of Aadhya, Prateek, and Jasmine respectively. Each episode will take you a ride into the students' lives, their challenges, and how they are gearing up for their upcoming school fest and 10th standard board exams. Launched on Amazon miniTV, the show rekindles memories from our childhood. Season 2 of the show was launched December 2022.
Breathe Into The Shadows Season 2 
Starring the versatile actor Abhishek Bachchan, Breathe Into The Shadows is a sizzling thriller series that interestingly showcases how a father's love can save a life and even take one. Season 1 was a huge success in 2020, leaving the audience wanting to see more leading to the launch of Season 2 last month. The show is undeniably filled with suspense with phenomenal performances, by popular actors Amit Sadh, Nithya Menen, and Ivana Kaur. Both seasons of this Indian crime thriller are available to enjoy on Amazon Prime Video.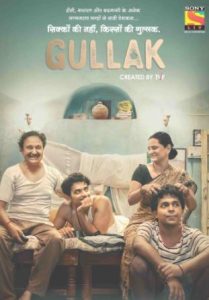 Gullak Season 3
Gullak is a heart-warming Indian web series streaming on SonyLIV under the banner of The Viral Fever (TVF).  Gullak season 1 was a hit family drama series and was loved by the audience, following which Seasons 2 & 3 were launched as well. Starring the talented cast of Geetanjali Kulkarni, Jameel Khan, Harsh Mayar, and Vaibhav Raj Gupta, the show revolves around a story of a middle-class Mishra family. The series brilliantly portrays the everyday trifles of a middle-class family and how they deal with household issues. A relatable tale from a small town with a hint of comedy, love, and entertaining dialogues made this a perfect binge-watch for viewers. All three seasons of the show will definitely give you a good laugh.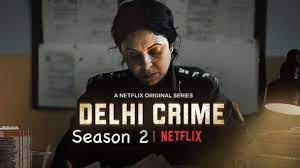 Delhi Crime Season 2
Launched on Netflix, the Delhi Crime drama series is based on the dreadful gang rape incident that took place in 2012. Actress Shefali Shah's performance as Deputy Commissioner of Police (DCP) Vartika Chaturvedi was loved by audiences worldwide, as she left no stone unturned to catch the monsters behind this daunting crime. Season 1 had viewers hooked on the show for its hard-hitting narrative, following the anticipation of the audience, Season 2 was released with even more engaging episodes. The series stars talented Shefali Shah and Rasika Dugal, Adil Hussain and Rajesh Tailang playing phenomenal avatars in the show. The second season of the series was launched in August this year and focuses on the Chaddi Baniyan Gang.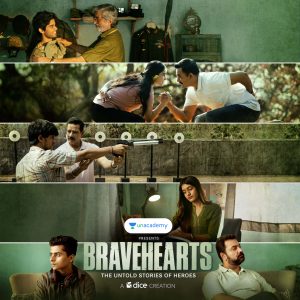 Bravehearts
Launched by Dice Media, 'Bravehearts – The Untold Stories of Heroes' is an anthology series. In five different episodes, the series unveils the inspiring heroic stories of the sacrifice made by army men and their families. Each episode highlights the inspiration of different individuals that encouraged them to join the defense forces, be it a ragpicker, a young widow of a martyr dealing with the sudden loss of her husband, or even a retired colonel dealing with his son growing apart from him over time. The power-packed cast includes- Shakti Kapoor, Omkar Kulkarni, Sayandeep Sengupta, Anushka Sharma, Varun Tewari, Anup Soni, Rohit Pargai, Gireesh Sahdev, Naman Jain, Nazneen Madan, Aadhya Anand, Suchitra Krishnamoorthi, K. K. Raina. The web show is available on Dice Media to binge-watch and to strike off from your list of shows to watch before the year 2022 ends!