Ever since Zee Studios' Har Har Mahadev was announced, the audience has been curious about the cast of the film and most importantly, who will play the role of Chhatrapati Shivaji Maharaj in it. The digital poster of this film has been released recently and this question has been answered.
Subodh Bhave, who is known as a versatile actor, will be seen in the role of Chhatrapati Shivaraya in the film. The fame of Chhatrapati Shivaji Maharaj's work is spread not only in Maharashtra but all over the country. Even today Chhatrapati Shivaji Maharaj is a source of inspiration for people all over the country.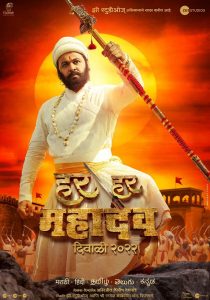 Keeping this in mind, Zee Studios has decided to release this film about Chhatrapati Shivaji Maharaj in Hindi, Tamil, Telugu and Kannada along with Marathi, with the aim of reaching as many people as possible through this film. It is special that this upcoming Diwali, Har Har Mahadev will be the first Marathi film to be released in five Indian languages ​​on the same day.
Har Har Mahadev is a multi starer movie. Talking about the role, Subodh Bhave said, "The moment we speak Chhatrapati Shivaji Maharaj, a sense of respect and pride arises in the mind. Chhatrapati Shivaji Maharaj is a constant source of inspiration not only for Marathi people but also for other people. I consider it a matter of luck for me to play the role of such a great king.
As an actor, we always want to do some challenging roles. I am aware that my 'dream role' is not only challenging but also a huge responsibility. I have sincerely tried to justice. There are few roles that bring joy and satisfaction at the end of the day. This role of Chhatrapati Shivaji Maharaj has given me that happiness to contentment and a new perspective to look at life. The direction by Abhijit Deshpande, a tight screenplay and quality production value courtesy of Zee Studios, Har Har Mahadev will be released in Marathi as well as other languages, so the joy is doubled."
Talking about the grandeur of Har Har Mahadev, Mangesh Kulkarni, Business Head, Zee Studios said, "We wanted this year's Diwali to be a celebration of joy for our audience. We are going to bring this joy through the film Har Har Mahadev. The glory of Chhatrapati Shivaji Maharaj's work and his achievements has not only reached the state and the country but also across the seas. The history of Chhatrapati Shivaji Maharaj, whose achievements are as high as the sky, while presenting his story, we always thought that it should be equal to the same magnificence. We are very happy that we are going to bring his work in such a grand and divine form through this film. The entire team of the film is working round the clock for this. More than 400 famous VFX technicians who have worked on many Hollywood films are working on this film. Zee Studios has decided to release the film in five Indian languages."
Produced by Sunil Phadtare's Shree Ganesh Marketing and Zee Studios, the film is directed by Abhijit Shirish Deshpande.