The Tribe Concepts, a homegrown brand that is centered around offering pure, bespoke and Ayurveda-inspired skin and hair care products has introduced two more products – Collagen Boosting Mask and Shilajitadi Thailam. Renowned actress Kirti Kulhari has collaborated with The Tribe Concepts for this launch. Dedicated to offering safe, clean and natural products, the two newly launched products are specifically formulated for imparting incomparable anti-ageing and skin restorative benefits.
Formulated with unique luxurious ingredients like Himlayan Shilajit, Indian Ginseng and Saffron, the Collagen Boosting Mask and Shilajitadi Thailam are the perfect power-packed duo which help in improving skin firmness, reducing fine lines and making the skin radiant like never before.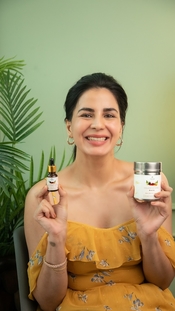 🔸Himalayan Shilajit is renowned for its wrinkles reducing properties and it also promotes skin regeneration
🔸Saffron, the golden glow giver is a powerful antioxidant which has skin repairing and brightening capabilities
🔸Indian Ginseng, commonly known as Ashwagandha, this powerhouse has been used for decades as a skin vitalizer and a remedy to signs of ageing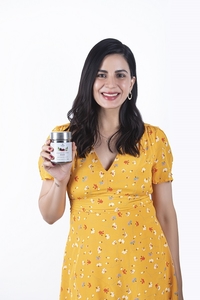 Both the products help fight signs of aging and boost the collagen of the skin, naturally! Kirti Kulhari shared her newly adopted 2 step routine using the Collagen Boosting kit and the amazing transformation her skin went through – here.
Expressing gratitude for welcoming Kirti Kulhari to The Tribe Concepts family Amritha Gaddam, Founder & CEO of The Tribe Concepts said, "We are beyond thrilled to be collaborating with Kirti Kulhari for our all-new Collagen Boosting kit. She is dynamic, vibrant and inspiring. Kirti's passion for all things natural and love for The Tribe Concepts has been a source of inspiration for us!! We are truly humbled to have Kirti as a believer of our brand, ethos and products."
Sharing her excitement on this launch, Kirti Kulhari said, "I'm a huge fan of The Tribe Concepts and have spoken about them many times in the past year. I discovered TTC last year during the lockdown and have been a loyal consumer of their products ever since. Now, with this new launch of the Collagen Boosting kit, I have really felt a huge difference in my skin. Love the way this brand celebrates the power of Indian Ingredients!!"
The Tribe Concepts strongly believes in the power of pure Indian ingredients and the ancient science of Ayurveda. Combining the two, the brand carefully curates skin and hair care products that solve specific problems and offer amazing results. Since its launch in 2019, The Tribe Concepts has introduced 14 unique products and will continue persistent efforts in innovating conscious and sustainable skin and hair care essentials.