Presently, the Amrit Jubilee of Independence is being celebrated in every corner of the country with great enthusiasm, jubilation and inspired by patriotism. The upcoming film 'Rashtra', which will be released after the spectacular independence anniversary celebrations, is also rekindling the flame of patriotism in the minds of the audience. The trailer of this film has been launched recently. The film will be released on August 26 across Maharashtra.
WATCH NOW:
Producer Bunty Singh has produced the film 'Rashtra' under the banner Inder International. Director Inderpal Singh has written, directed and edited this film. The trailer of 'Rashtra' is truly introspective and thought provoking. Today, while we are celebrating the nectar of the country's independence, even today the caste divide in the society has not been bridged. In the trailer, a glimpse of how politics is still being played in the name of high-low, dalit-savarna can be seen in 'Rashtra'. In our state, the police have no business, because we do not allow crime, these dialogues are interesting. The thoughts of great intellectuals like Dr. Babasaheb Ambedkar will also be brought into limelight again on the occasion of this film. Powerful dialogues, juggling of leading actors, effective ideological conflicts, meaningful songs, mesmerizing music and a plot that mirrors the present day society are the hallmarks of this film. Veteran actors like Vikram Gokhale will be seen in important roles, Union Minister of State for Social Justice Ramdas Athawale and Swabhimani Shetkari Sangathana Raju Shetty will be seen in the film. According to director Inderpal, this film deals with a very burning issue in the society. It tells the opinion of every element of the society and also tells how to get out of it. This is an honest attempt to present some real-life political events on the cinema screen. Inderpal also said that 'Rashtra', which presents reality through meaningful dialogues and songs and music, will meet the audience.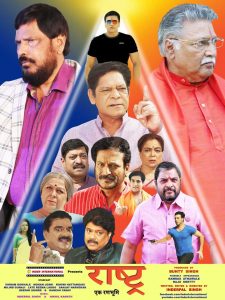 Inderpal, who made his debut in Marathi cinema with the film 'Rashtra', has made a film that gives a new direction to the society. In this he has raised the important issue of reservation. The film stars Vikram Gokhale, Mohan Joshi, Rohini Hattangadi, Milind Gunaji, Reema Lagoo, Sanjay Narvekar, Ganesh Yadav and others. Music composers Nikhil Kamat and Inderpal Singh have composed the music for this film.