There is an inseparable connection between love and young generation. But the current young generation is afraid to express their love. The Marathi web series "Tik Tak Toe" presented by Cafe Marathi based on different 'Fundas'. Pravin Kalokhe is the director of this web series. The series is produced by Rohit Patil and Archana Patil and presented by Nikhil Raibole and Bhupendra Kumar Nandan, founders of Cafe Marathi.
Science and logic have a huge impact on the young generation. But the same science and logic also has an effect on love, which can be experienced in this web series. In this series you will get to see the different 'Fundas' of science and how to use them to make a person aware of your love. Sagar loves Shirin very much but he is afraid to profess it to her. His friends support him as his love-guru so that he can win over Shirin's love. Sagar uses several 'Fundas' to move from friend zone to boyfriend zone. This "Tic Tac Toe" web series that explains the different logics of friends, love and their love.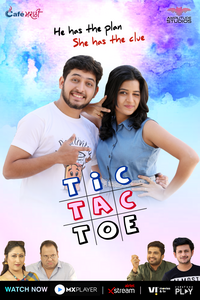 Commenting on the series Tejas Barve, who was last seen in a television serial Mrs. Mukhyamantri on Zee Marathi, says, "The current young generation sees love as a pure time-pass. But love is not a time- pass, it has many unique logic and science 'Fundas' hidden in it. You will understand this when you watch the series "Tic Tac Toe". Rohit Patil and Archana Patil, the producers of the Marathi web series "Tic Tac Toe" also opined about the series, "Science is not just a bookish knowledge, it is important in real life. It is important for the young generation to understand the logic and 'fundas' behind it and the serial stresses upon it."
Similarly, Nikhil Raibole, founder of Cafe Marathi, says about the series, "Cafe Marathi has produced and presented many different youth related web series earlier. But the "Tic Tac Toe" webseries is a complete package of love, college life, friends and the ups and downs, problems and solutions. Not every education in college life can be read in a book. But the college campus will teach you many things. All these things are covered in 'Tic Tac Toe'.
The web series stars Tejas Barve and Mayuri Kapdane in the lead roles and also stars Adish Vaidya, Chinmay Udgirkar, Nishigandha Wad, Anand Ingle, Saurabh Gogate, Jayati Bhatia, Akshata Samant, Chandrakant Kulkarni. The "Tic Tac Toe" web series will be available for free viewing on MX Player, Vodafone Play i.e. VI Movies and Airtel Xtream digital platforms.