Sony Entertainment Television's acclaimed mythological show 'Vighnaharta Ganesh' has been narrating the tales of Hindu Gods and Goddesses through a magical visual extravaganza. The show has garnered a set of dedicated viewers who follow the show religiously. The current track of the show brings to light the story of Tulsidas, also known as Goswami Tulsidas. A renowned saint and poet, also known for his devotion to the deity Rama. Tulsidas has been acclaimed as one of the greatest poets in Hindi, Indian, and world literature.
The story of Tulsidas is actually fascinating from his birth. It is said he spent 12 months in the womb before he was born and at birth, had 32 teeth. The show will, also, showcase the most interesting trail of events centering around Tulsidas and his wife 'Ratnavali' that led to his transformation. A flashpoint conversation between the couple became Tulsidas's moment of epiphany and he was transported to his true calling – 'Become a sage devoting his life to learning.'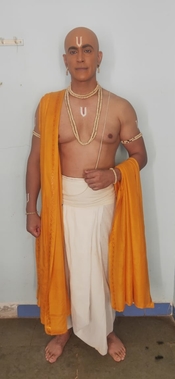 To bring alive the tales of Tulsidas, popular television actor 'Tarun Khanna' has been roped in to play the pivotal character of 'Tulsidas' in the show. The actor has a diverse line of work backing him in various mythological shows across Indian Television.
Sharing more on the same, actor Tarun Khanna shares, "I am super stoked to be a part of a show that has been successfully running for so many years now. I believe that the responsibility of portraying a character of the magnitude of 'Tulsidas' was a big responsibility, hence I decided to take it up as a challenge, also considering the fact that I have a lot of experience doing these kind of characters. Moreover, I didn't want to let go of this opportunity because I believe a role like this doesn't come to you often."
Watch Vighnaharta Ganesh, every Monday to Friday at 8:00 PM only on Sony Entertainment Television