Remember Mohsin of Lihaaf: The Quilt (2019) or Jagga of Wishlist (2020)? Yes, we are talking about Tariq Khan, who kicked off his career as a producer of popular films like Identity Card (2014), Mantostaan (2017) and won 'Best Film' awards for the same.
This cute-faced actor won the hearts of the audience when he walked down the red carpet at Cannes Film Festival (France) for the screening of his film, Mantostaan. The actor received profound appreciation for his character, 'Ram Singh' in the film.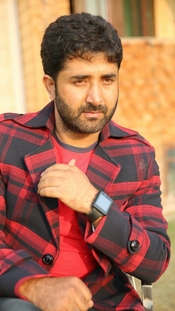 Meanwhile, Tariq Khan is currently in news for his newly-released film, Angithee (the firepot), which released on Friday (April 9, 2021) on Shemaroo App.
The film revolves around a free-spirited woman named Firdous (played by Ritu Kanta) who is married to Hameed (played by Tariq Khan) but falls for her husband's friend Shahid (played by Rahat Kazmi) after four years of their marriage. Angeethi is set in a small village where a woman's boundaries are set within the four walls of the house. Firdous' father-in-law (played by actor Hussein Khan) is seen in a strict and conservative role. As the story develops, every character seems to undergo a major change, be it the female protagonist or the lead characters (Hameed & Shahid). They are not the same in the second part as they're in the first half of the film!
Angeethi sends out a strong message to the public in various aspects. Talking about his character and the film, actor Tariq Khan says, "The film emphasizes on celebrating small happiness with your better half as in you don't need anything grand to be happy, just a little care can bring a smile on someone's face."
Tariq Khan further adds, "Like in the film, my character Hameed buys a television for his wife's happiness even if that meant going against his father or convincing him for the same. Similarly, we can help our partner in doing household chores, share the burden or the workload and take out extra time for each other from our daily routine."
Directed by Internationally known and acclaimed Rahat Kazmi and produced by Rahat Kazmi Films, Tariq Khan Productions & Zeba Sajid Films in association with Alphaa Productions, the film has been penned down by Rahat Kazmi and Kritika Rampal. Mudasir Ali has given soulful music to the film while Zeba Sajid & her team have designed the costumes.