Marathi Films are always based on new topics. Adding notable acting to rich storytelling and making quality productions has become the equation of Marathi cinema today. Another Marathi film similar to this equation is coming soon. The first poster of this Marathi movie titled 'Tarafa' has been released recently through social media. The film is set to release on May 6 across Maharashtra.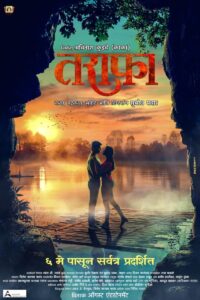 Producer Avinash Kudche (Kaka) has produced 'Tarafa' under the banner of Bhoomi Productions and the film has been directed by Subodh Pawar. The fascinating first poster that looks like a beautiful picture has caught the attention of 'Tarafa'. The poster depicts a romantic couple of young men and women standing on a raft in a scenic environment. The poster is shot against the backdrop of the setting sun and flocks of birds returning to their nests. There are indications from this poster that a love story will be seen in it. Why is the title raft of the film kept as such? The answer is not in the poster but in the movie. The title also suggests that some other topics will be touched upon in the film in connection with the love story. As Subodh Pawar has directed this film very meticulously, something innovative will be seen in 'Tarafa'. Even though the bamboo raft is floating on the water, it needs to be balanced in the middle. It is a film about friendship, love, the world or any relationship. It stars Ashwini Kasar, Pankaj Khamkar, Dilip Dombe, Shravni Solaskar, Milind Dastane and also stars Bhumi Avinash Kudche and Gauri Avinash Kudche.
Subodh Pawar has done the story, screenplay, dialogues, and lyric writing of 'Tarafa' with Amruta accompaniment. Sudhir Meshram has been appointed as the Chief Assistant Director, while Mahesh G. Bharambe is the executive producer. DOP Raja Phadtare has done the cinematography and Nilesh Gawand has compiled it. Music is by Vijay Gatlewar and choreography is by Pradip Karlekar and Shardul Kunwar. Vijay Gatlewar, Jayshree Karambelkar, and Vivek Naik have sung for this film. The costumes are by Saul Gatlewar, the make-up are by Santosh Bhosale and the hairstyles are by Manali Bhosale. Art Direction by Keshav Thakur. The film will be released on May 6.