At the end of the latter six months of the year 2019, the film 'Takatak' hit the bull's eye at the box office by shattering all the earlier records. The announcement of the launch of the sequel to the film has now been made by the producers. The muhurat shot for the sequel was taken on the auspicious occasion of Gudi Padwa.
Omprakash Bhatt and Dhananjay Singh Masoom are all set to produce the film 'Takatak 2' under the banner of Purple Bull Entertainment Pvt. Ltd. with Co-producer Jagat Singh. The entire team is elated with the phenomenal response to the motion picture of the title 'Takatak 2' like it was the case with 'Takatak' earlier. At a time when the entire film industry especially the Marathi film industry, including the fans of Marathi films is burdened with corona as well as the lockdown, this indeed a very good news. The team while celebrating the phenomenal response to the unveiling of the motion picture poster of the film, has now started the shooting of the film in full swing. The producers of the film are of the opinion that the film will lure all the viewers irrespective of their age because it is predominantly youth oriented. "Not only has Milind Kavde written the gem of the idea of the film but also the story as well as the screenplay while Kiran Berad has penned the interesting and humorous dialogues for the film. Once again in this film Prathamesh Parab is all set to play the lead along with Akshay Kelkar, Ajinkya Raut, Bhumika Kadam, Pranali Bhalerao, Komal Bodkhe, Bharat Ganeshpure, Asha Shelar, Kiran Mane, Pankaj Vishnu, Nisha Parulekar, Rahul Belapurkar, Kiran Berad, RJ Mahesh Kale, Abhay Kulkarni etc. embellish the star cast of the film.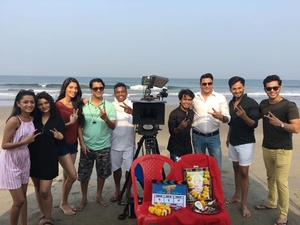 Milind Kavde affirms that with 'Takatak 2′, he will again make an attempt to create an end product which will not only entertain the audiences but also educate them with a sugar-coating message. Not only does Milind goad the audiences to shower 'Takatak 2' too with love that they showered on 'Takatak' but is also hopeful, and confident that they will love the sequel a lot more than what they did to 'Takatak'. While Jay Atre has penned the lyrics for the songs of the film, the music has been composed by Varun Likhte. Nilesh Gundale is the Executive Producer for the film while Hazhrat Sheikh Wali is the cameraman who is all set to capture all the exciting locations in his camera as the DOP of the film.