Indian Idol fame Swaroop Khan who is known for his songs in super hit films like Padmavat and PK to name a few. Transpired to release his next single on Independence day under the banner of Y- Star Records and Red Ribbon Musik called 'Apna Desh Hai India. The song is dedicated to all the Indians out there, for the unity and the love that all Indians have for each other in them, the song also expresses its emotions on respecting each other's community and spreading love all over.
The beautiful and heart touching melody is presented by Y-Star Cine Television Pvt. Ltd and Red Ribbon and lyrics are written by Sham Balkar and Prabh Kumar Marok, the music is given by Amc Aman.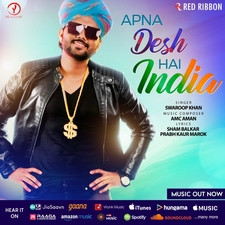 Y-Star Cine Television Pvt Ltd who is worldwide known for their amazing work on digital platforms, film distribution, film production , at present they are all set to make their debut in the music industry under Y Star Records. During the pandemic Y-Star Had released their first ever motivational song called 'Bass Kuch Dino Ki Baat Hai', which included many known personalities from the Bollywood fraternity.
At the moment they are inclined and launching their second most loved single along with Tharki Chokro and Ghoomer fame singer Swaroop Khan.
"Being a proud Indian I always wanted to do something spiritual for the nation and that's the reason I thought of making the debut in music industry during this pandemic by releasing these astonishing songs, 'The current song Apna Desh Hai India' brings out the message of unity and prosperity between everyone," exclaimed presenter Aditya Bharadwaj of Y-Star Cine Television Pvt. Ltd.
"When I got the opportunity to sing this song I really felt precious and decided to sing the song for the love of my country. The lyrics of this song are so staggering. I have really laid all my efforts, and have sung this song out of all my emotions and love for my country; I really hope that the audience all over love this song," quoted Singer Swaroop Khan.
Y-Star Records will be soon releasing their next single for the music lovers.