On the big screen, the viewers are able to watch the various complex hues of humans but it was not possible for the last year and a half. The wheel of different hues which had stopped is once again all set to start and a lot of films are all set to be released shortly, one of them being the mystery oriented Marathi suspense film called Alipt. The film which will tell the story of the present day by referring to an incident that happened yesterday will enthuse all the viewers in a big way. Directed by Manoj Sudhakar Yerunkar, the film Alipt is set for release very shortly.
Produced under the banner of 'Cutting Chai Productions' by Aniket Vinayak Karanjkar, the co-producer of Alipt is Sanjay Laxmanrao Yadav of Sanju Entertainment. Alipt has been made with the avowed intention of presenting something which is out of the box, content- wise. Swapnil Prakash Jadhav has written not only the engrossing story and edge of the seat screenplay of the film but also the incisive dialogues. The tagline of the film is that yesterday's event does not resurface in the present but are born in the new era and it sets out to tell a lot of things and the viewer will be able to see a lot of connections between the past and the present. According to Sanjay Laxmanrao Yadav, the highlight of the film is the plot which sustains the mystery from the beginning till the end, besides the incisive dialogues and the electrifying performances of the cast and last but not the least the pulsating music which intensifies the mystery.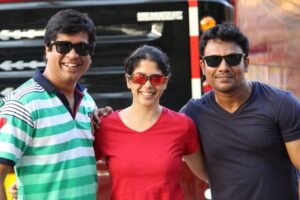 Though the title of the film is Alipt, the plot is such that it will keep the viewer thoroughly engrossed in the film and also entertain them out and out. Today the audiences do not want just humor filled entertainment but something different and novel and suspense films also have a different set of loyal viewers, says director Manoj Yerunkar and the film Alipt will definitely attract the various classes of the audiences. While the youth connection will appeal to the youngsters, the past will appeal to the other age groups immensely. You will be able to see the blend of the past and the present in the film.
The star cast of Alipt comprises Swapnil Jadhav, Tanvi Hegade, Sharyu Sonawane, Bhushana Ghadi, Sunil Dev, and Sushant Shelar in the main roles. Aniket Karanjkar is the DOP. Swapnil has written the lyrics along with Janmejay Patil which have been composed by Rajesh Sawant. Choreography is by Dilip Mestry while art direction is by Mahendra Shiv Mangal, Appa Raut etc. Editing is by  Harshad Vaithi and Appa Tarkar has handled the sound. Makeup is by Abhay Mohite and Pratibha Gurav has handled the costumes. Loken has handled the three departments of background music, Folly and Sound Mixing. The Executive Producer of the film is S. Nandagvale.