The show 'Meri Saas Bhoot Hai', which went on air on 23rd January on Star Bharat, is being well received by the audience.  This new show is produced under the banner of Film Farm Productions.  The show stars actress Sushmita Mukherjee in the lead role as a ghostly mother-in-law who never misses a chance to pull her daughter-in-law's leg and taunt her even after her death.  She is known for her excellent roles in many movies and TV shows.  Unlike other mothers-in-law on TV, Sushmita, who plays the role of a mother-in-law, is also very much liked by the people as 'Rekha'.  Sushmita Mukherjee, who plays the role of a ghost in the show, shares her belief in the existence of ghosts with her viewers.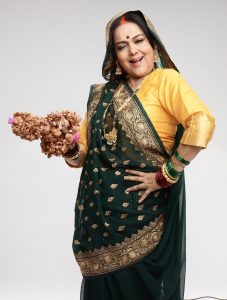 Sushmita Mukherjee says, "I personally believe in ghosts because after a person dies, their soul leaves the body, but remains in the environment as energy to fulfill their unfulfilled desires while alive. However, the soul then wanders around and feels stuck because it no longer has a body to say and do, and this energy is what we refer to as a ghost.  Similarly, I am playing the role of ghostly personality 'Rekha' which will be a source of entertainment unlike other ghosts as my character is very different and playful and hence I am sure this dramedy show will please the audience and give them a lot of fun keeping them entertained ."
The story revolves around Kajal Chauhan (Gaura) and Sushmita Mukherjee (Rekha).  In which some veteran actors like Vibhav Roy, Bhavna Balsavar, Vicky Ahuja and Vishal Chowdhary will also be seen in important roles.  The show will definitely be something new for the viewers as they will witness a unique concept being showcased on television.
To know more, watch Meri Saas Bhoot Hai every Monday to Saturday at 7:30 PM only on Star Bharat.