Sujoy Mukherjee directorial debut film KALPVRIKSH announced. He takes the legacy forward of their family's banner "Joy Mukerji Productions" in collaboration with Royal Cinemas and makes his directorial debut  "Kalpvriksh", at the ancestral Filmalaya Studio along with the announcement of eminent writer Dilip Shukla's film "Ganga.
Sujoy Mukherjee not only takes forward his father's banner "Joy Mukerji Productions"; he also incorporates classic glimpses of the golden era in his debut film "Kalpvriksh". He says, "My father Joy Mukheji was the joy of Indian cinema. To see him act in films was like going to an acting school, he was a gurukul. My father late Shri Joy Mukherjee has left a beautiful legacy which I would like to reintroduce."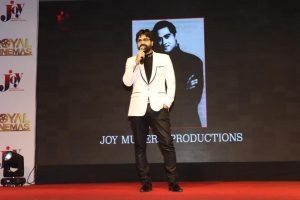 Sujoy's debut film "Kalpvriksh" as a director is the result of his long and interesting journey of exploring various departments in the industry. The plot of the film revolves around sufferings of parent's vis a vis their over ambitious and selfish children. The basic idea of the story was given by Anandji bhai of music director duo Kalyanji Anandji fame, story, screenplay & dialogues are by Sunil Kapoor, Sudhir Kapoor and Sujoy Mukherjee. "I am making this film Kalpvriksh with the basic theme of not selling or destroying the properties and assets received in legacy from the elders," says Sujoy whose short film which is streaming on Disney + Hotstar Ab Mujhe Udnaa Hai carved its name on the trophy of 39 awards all over the globe and won prestigious Dadasaheb Phalke International Film festival award for best short film.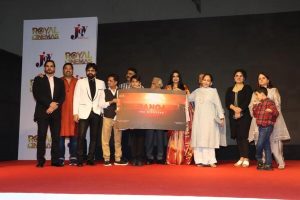 Along with Sujoy, ace writer Dilip Shukla who is known for his blockbuster hits like Dabangg, Dabangg 2, Andaz Apna Apna, Police Force: An Inside Story & many more will direct "Ganga" which revolves around Ganga, an orphan from Lathipur, a small village in Uttar Pradesh. As the film gets difficult, he has to fight with enemies of society, evil and powerful Villains for the sake of the poor and oppressed. Ganga becomes a ray of hope and emerges as a grand Hero. "I am honoured to be associated with Joy Mukherji Productions & Royal Cinemas. They are the oldest & the flag bearers of our Indian Film Industry. My association with them for Ganga will only expand my audience base in different regions & fetch me a broader audience base."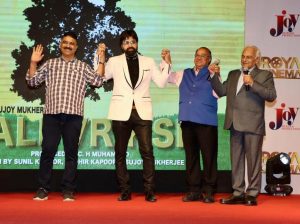 C.H Muhammed of Royal Cinema, a writer, lyricist, producer with 2 blockbuster Malayalam films, one of them being superstar Mammootty starrer Masterpiece & Mamta Mohandas starrer To Noora with Love to their credit says, "Our association is a collaboration of established banners of the Indian Film Industry. Together we aim to venture into unexplored realms of film making by experimenting with new themes and subjects."
Both Sujoy & Dilip are constantly involved in developing new revolutionary experimental thoughts and unique ideas to present Indian films in an international frame. As filmmakers who are full of ideas, Sujoy & Dilip envision delving into revolutionary and untrammeled areas and thus be able to discover their inner self using the limitless possibilities and scope of cinema.