The biggest comedy carnival 'Gangs of Fimistaan' is all set to entertain the viewers and make them laugh like no one. The show has already created a buzz for the legendary Sunil Grover who will be making a comeback in a nonfiction show.
But let me tell you that, the show has a star-studded cast list who have proved in the history to have entertained and made the audience laugh like no other. The exciting news is that the audience will be getting to see Sugandha Mishra and Sanket Bhonsle again on the same stage.
Let me tell you that both have been in the news to be dating each other. The actors have both denied the above news but it is still around the internet.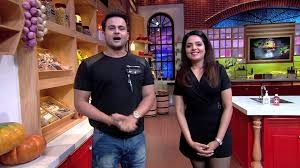 We don't know how true news is that but is definitely a good news for all their fans.
We got an opportunity to speak to Sugandha Mishra and this is what she has to say, "Well, first of all, I am really happy to be back on Star Bharat. It feels great to be able to connect with the viewer's especially after lockdown. This is a fun-filled show with a lot of filmy masala 'Gangs of Filmistan'. It's fun to work with so many Talented People on Board, excited to play multiple characters, it is surely going to be a great experience."
We also spoke to the very talented Dr. Sanket Bhonsle where he mentioned, "I am happy to be back on the set. It will be my pleasure to entertain people who are going through a difficult phase right now. I am really excited and I hope everybody will love our show."
Like, everyone, we are too excited to see both Sugandha Mishra and Dr. Sanket Bhonsle back. They have entertained us in all the avatars that they have come before and I am sure this one too will be a dhamaka among the audience.
Till then tie your seat belt to watch the biggest comedy carnival…
Watch Gangs of Filmistaan from 31st August at 8 pm only on Star Bharat