Samidha Kiran is a well-known model and actor in the entertainment industry. Having over eight years of experience in commercial, television, and film acting, she brings a wealth of talent to the table. A number of her works have brought her fame and success, including Chor Bazari, Yahan Ameena bikti hai, Savdhaan India, Kiske Roke Ruka Hai Savera, a fictionalized version of the Pulwama attack, 'A Valentine's Day Story An Ode To You', and a feature film based on a true story, 'Jaunpur'.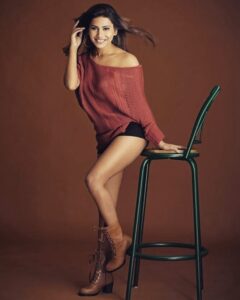 In the words of Samidha, "It has been an incredible experience of life so far and I am looking forward to more such experiences. As for my performance in 'Jaunpur,' I'm overjoyed to hear such an enthusiastic response from the audience. The love and support I have been receiving are just overwhelming. I was happy that I was able to give my all to my character in 'Jaunpur'. I will always make sure to do justice to my role with my best effort in the future projects."
In the near future, Samidha Kiran is sure to move the stage with her acting skills. On-screen, the audience will surely get a glimpse of her exhilarating expressions. She had quite the thrilling experience setting out on a journey from modeling to becoming an actor. During her transformation from modeling to acting, she has experienced a roller coaster full of rewarding endings. A talent like her will surely make a great impact on the screen. "Jaunpur" is the title of the web series she recently completed. The web series premiered on WatchO on December 17th. The show is directed by Satish Shukla and is based on real events. Samidha Kiran will be seen showing her skills on the web show based on the life of reality. Currently, Samidha Kiran has just piled up a new project and has already started shooting for it. The further details on the project will be revealed officially in due course.