Presenting the brand new trailer and poster for Academy Award winning director Steven Spielberg film adaptation of the musical "West Side Story". From 20th Century Studios, Disney India will release "West Side Story" in cinemas on December 10, 2021.
Directed by Academy Award winner Steven Spielberg, from a screenplay by Pulitzer Prize and Tony Award winner Tony Kushner, "West Side Story" tells the classic tale of fierce rivalries and young love in 1957 New York City. This reimagining of the beloved musical stars Ansel Elgort, Rachel Zegler, Ariana DeBose, David Alvarez, Mike Faist, Josh Andrés Rivera, Ana Isabelle, Corey Stoll, Brian d'Arcy James and Rita Moreno.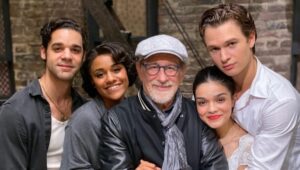 The film is the second feature-length adaptation of the 1957 Broadway musical of the same name by Arthur Laurents, Leonard Bernstein, and Stephen Sondheim, which is based loosely on William Shakespeare's Romeo and Juliet. The film's screenplay is expected to hew more closely to the Broadway script than to the 1961 film adaptation directed by Robert Wise and Jerome Robbins.
In March 2014, Steven Spielberg first expressed interest in directing an adaptation of West Side Story. This prompted 20th Century Fox to acquire the rights to the project. Tony Kushner, who previously worked with Spielberg on 2005's Munich and 2012's Lincoln, revealed in a July 2017 interview that he was writing the screenplay for the film, stating he would be leaving the musical numbers intact, and that the story would be more similar to the original stage musical than to the 1961 film. In a 2020 interview, Spielberg told Vanity Fair: "West Side Story was actually the first piece of popular music our family ever allowed into the home. I… fell completely in love with it as a kid."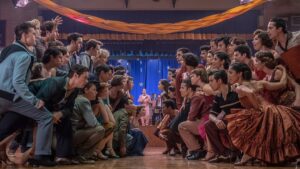 West Side Story is scheduled to be released by 20th Century Studios in the United States on December 10, 2021, after being delayed a year due to the COVID-19 pandemic.
Bringing together the best of both Broadway and Hollywood, the film is produced by Spielberg, Academy Award-nominated producer Kristie Macosko Krieger and Tony Award-winning producer Kevin McCollum.