EORTV's new series I Love Us 3- Tu Meri Aashiqui Hai released its second song sung by Srushti Barlewar, the multilingual singer and songwriter. The song titled "Aankhon main Teri dub jau main", is a visual treat to your eyes, as it beautifully portrays the chemistry between two female lovers in the show. The series is directed by Digvvijay Siingh, music composed by LK Laxmikant and the song's beautiful lyrics are written by Imaan. The soundtrack's theme is about two souls discovering and falling deeply in love with one other.
After a successful stint of two seasons of EORTV's most popular show 'I Love Us', back with a new season, I Love Us 3 is a tale of passion, betrayal and love that follows the journey of the two female protagonists as they decide to take their romance to the next level by migrating to another city. The series which is currently streaming on EORTV, features bold and passionate encounters starring Mahima Gupta and Bushra Shaikh, who play lesbians for the first time on television.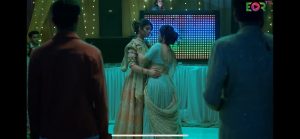 Srushti Barlewar said, "When EORTV approached me for the song, I was ready and all excited to lend my voice. The lyrics are so soulful and meaningful, it totally matched my zone of singing. I am hearing a lot of people raving about the song and it feels great people are enjoying the song and music as much as we enjoyed making it."
Deepak Pandey, CEO, EORTV shares, "The lyrics are really heartfelt, and the music will transport you back to your lover's memory. The music video on our YouTube channel has already crossed more than 169,009 views and has 600 comments, showing how strongly the audience connects with it. At EORTV, we are always working to provide content that is relevant and contemporary in today's world."
EORTV is India's first OTT and web streaming platform to curate and produce LGBTQ content.