Actress Sonnalli Seygall  best known for her work in  films, such as, among others,  has also featured in several music videos. Now, she will be seen in a pretty Indian avatar in yet another track that releases. Titled Dholna, it's a wedding song.
"It's a beautiful and a vibrant wedding song sung by singer Sona Mohapatra. The track has been backed by the music label Koinage Records. Sonnalli plays the protagonist in it, says a source.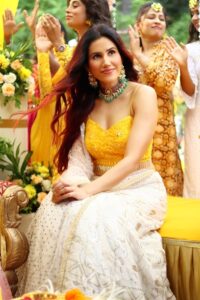 Sharing her experience of working on the track, Sonnalli says, "The past one year has been a difficult one for all of us because of the pandemic and people who missed dancing at weddings will definitely love this peppy and vibrant track. I agreed to get on board the moment I heard the track. Sona has sung it beautifully and I had a great time dancing & shooting for the music video. I can't wait to see the audience's reactions."
The video stars Sonnalli Seygall, Sona Mohapatra and Gaurav Bajaj. The song has been composed and written by Neeraj Shridhar. The video is directed by Anand Mishra and assistant director are Ajay Dalal, Abbaas Gazdhar, Pradnesh Fulsunde, Sabhya Surana, Diksha Chaphe, Kaushal Kamble. The song is choreographed by Saurabh Khatri and Harpreet Khatri with assistant choreographers Rutul Pancholi and Mohammed Tamboli.
The DOP is Dhruwal Patel, Camera Assistant, Manoj R Yadav, Art Director Salim Shah, Stylist – Pooja Pareek, make up by Sital Patel, Vishal Charan, and Manoj Kumar N Verma, Manwar Rana, Casting by Pinnacle Celebrity Management. Ankan Shrivastava (Rolling Panda Films & Entertainment Pvt Ltd) is the line producer. Online Promotions by Kunnal Kapur (Koinage Records). Recording Engineer is Amey Wadibhasme and Mixing and Mastering Kohinoor Mukherjee, Photography by Ajay Dalal, DI isAmit Bera, Artwork by Swapnil Kapri, Camera from UB Media Hub and Haresh S Bhanushali.