A Marathi movie with the same name has been adapted from the novel 'Shyamchi Aai' written by Pandurang Sadashiv Sane, who is known as Sane Guruji. Everyone is curious about this movie which is based on a famous popular novel. In today's age of modern technology where the amazing alchemy of turning black and white films into color is done. 'Shyamchi Aai' will be seen in black and white. The idea of presenting the reflection of the mother figure from Sane Guruji's funeral on the silver screen has been taken up through the film 'Shyamchi Aai'. The new poster of this film was unveiled recently.
Producer Amrita Arun Rao has produced the movie 'Shyamchi Aai' under the banner of Amrita Films. Sujay Dahake, an experimental young director, has directed this film. Along with the title of the film, it has been revealed that the film is based on the writing of Pandurang Sadashiv Sane (Sane Guruji's Novel). In this film, Om Bhutkar has played the role of Sane Guruji, and earlier Om's Sane Guruji look was revealed through an eye-catching poster. Then curiosity was awakened in everyone's mind as to who will play the role of Shyam and his mother. The veil has also been lifted from this mystery. The new black and white poster of the movie 'Shyamchi Aai' has been released on the occasion of Republic Day.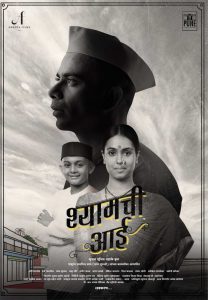 The film stars Sharva Gadgil as Shyam, while Gauri Deshpande appears as Shyam's mother. On this occasion, two new faces Gauri and Sharv have come into the limelight. The novel 'Shyamchi Aai' was written by Sane Guruji in 1933, in which he expressed his love, devotion and gratitude towards his mother. Acharya Atre has described this book as 'Mahamangal Stotra of Matru Prema'. The film has been produced preserving his legacy. Producer Amrita Arun Rao has reiterated that the film 'Shyamchi Aai' has been made with the aim of spreading the Indian culture that regards the mother as a deity.
The film stars Mayur More, Sandeep Pathak, Sarang Sathye, Urmila Jagtap, Disha Katkar, Gandhar Joshi, Aniket Sagvekar, Jyoti Chandekar and others. Famous writer-director Sunil Sukthankar has written the script for this film. Cinematography has been done by Vijay Mishra, while editing B. Mahateshwar has done the editing. Makeup is done by Mahesh Barate and costumes are by Namdev Waghmare. The music is composed by Ashok Patki and background score is by Saket-Abha. Aqib Syed has done the sound design and Kunal Lonsure has done the sound recording. Amey Bhalerao has done the art direction and Dinesh Mapari is the executive producer.