The glimpse of the song which has been giving the feeling of melodious music to the ears of the fans for last many days has now come to the fore. The song, which has been the talk of the town since the release of Gulhar's motion poster, has embarked it's own place in the hearts of music lovers. Even before the performance, the song 'Lahar Aali, Lahar Aali Ga …' from 'Gulhar' picturised on Shivani-Ramesh has literally driven the audience crazy. Now the whole song has been released along with the video. Like the audio, the video of this song is also succeeding in attracting the attention of the fans. The audience is also impressed by the brand new duo in 'Lahar', a combination of melodious music and sound. The song is being shared with fans through Video Palace.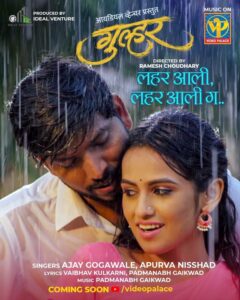 Under the banner of Ideal Venture, producers Shantaram (Appa) Medage, Shivaji Bhintade, Anup Shinde, Abid Sayyed have produced 'Gulhar'. Along with directing 'Gulhar', Ramesh Chaudhary has also played the lead role in it. 'Lagira Zhala Ji' fame Shivani Baokar is in the lead role along with Ramesh Chaudhary in this film. The song 'Lahar Aali, Lahar Aali Ga …', which was filmed on these two, is going to fill the love story of the two in 'Gulhar' with pink color of love. On this occasion, the audience will be able to experience the chemistry of the new duo of Shivani-Ramesh. Although the story of the film revolves around an 11-year-old boy, it also has the angle of a love story of a romantic couple. The song is written by Vaibhav Kulkarni and Padmanabh Gaikwad and composed by Ajay Gogavale and Apoorva Nishad. The eye-catching poster of this released song is going to arise  curiosity among the audience. The Shivani-Ramesh duo soaking in the rain is seen in this poster.
'Gulhar', which will be released across Maharashtra on May 6, has been applauded in leading national and international film festivals. The film has won many prestigious awards. Apart from acting, directing and writing, the work in the technical department has also been appreciated. Mohan Padwal has written the story of 'Gulhar' and Sanjay Navgire has written the script and dialogues. The film stars like Ravi Kale, Bhargavi Chiramule, Vinayak Poddar, Madhav Abhyankar, Suresh Vishwakarma, Kishore Chougule, Rukmini Sutar, Ganesh Kokate, Kapil Kadam, Pushpa Chaudhary, Shivaji Bhintade, Anup Shinde, Manjiri Yashwant, Swapnil Landage, Reshma Phadtare, Sachin Malwade, Devendra Vayal, Ganesh Shitole etc. have acted with Shivani-Ramesh's duo. Kumar Dongre, who is known as an excellent DOP and editor, has done editing along with cinematography. Background music is by Kedar Divekar, choreography by Vishal Patil and sound design by Nikhil Lanjekar and Himanshu Ambekar. Yogesh Dixit has seen the work of DI. The project head of this film is Amar Lashkar.