Shiprra Goyal's brand new song 'Bhari Mehfil 2.O' OUT NOW!! 'Bhari Mehfil 2.O' sung by Shiprra Goyal, is a remake of super star Punjabi artist Babbu Maan's BHARI MEHFIL, which was released in 2022. "It was a tremendous duty to do justice to Babbu Maan's Hindi song BHARI MEHFIL," says Shiprra.
Though I was honored to sing his hit song, I did my best to match him with my vocals. I had so much fun recording and filming this song, the lyrics are so deep that I was always sure to sing its REPRISE. Finally, it is out, and I am confident that I have Babbu Maan's best wishes, as well as the audience's, for this new presentation of 'Bhari Mehfil'."
To keep her admirers entertained, Shiprra Goyal has released a number of music recordings. She has collaborated with a variety of artists, experimenting with and enjoying the collaborations. Her past hits, "Family," "ATTACH," and "YOU KNOW," have earned a lot of affection from music fans.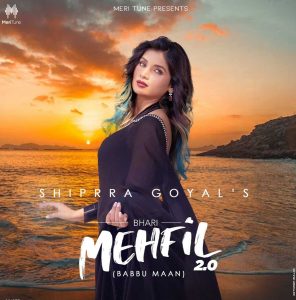 Patralikaa B composed the song 'Bhari Mehfil 2.O,' Kunaal Vermaa wrote the lyrics, and Vikash Pawar and Rishu Singh directed it. Meri Tune music label is now streaming the song. Prasanta Sahoo is creative director, Narendra Joshi is cinematographer, editing by Rishu Singh, D.I. by Manindar Singh, music production by Showkidd and production house is Small Town Production.
Shippra Goyal is popular for her songs like "Ishq Bulava", "Angreji Wali Madam", "Ungli", "Tutti Bole Wedding Di", "Yadaan Teriyaan", "Lovely VS PU", "Mainu Ishq Lagaa" and "Paro". All the experience she gained performing in competitions, helped her in doing her first show when she was studying in 12th standard. She thought to pursue her career in Bollywood playback singing when she turned 21 years old. After completing her graduation in classical music from Hindu College (Delhi) she then moved to Mumbai in 2013, and soon made her debut with Vishal–Shekhar's 'Ishq Bulaava' since then she has sung many songs in Bollywood and Pollywood.