Have you ever seen a scary movie that truly left you trembling? A tale so evil, it is sure to give you nightmares? ShemarooMe Box Office brings one such horror extravaganza to your homes, this September. The OTT service has never shied away from exploring diverse types of content and this time round, it plans to push the envelope further with X Zone, an eerie supernatural thriller that happens to be their upcoming release.
Touted to frighten the living daylights out of viewers, the film allegedly faced a bumpy road at the censor board. Now, with ShemarooMe Box Office as its knight in shining armor, the scare-fest comes to the streaming world in all its creepy glory with an Adults Only certificate. Shemaroo Entertainment is known to encourage creative freedom, and by backing a niche project like X Zone, the brand puts its money where its mouth is.
The story follows a group of six friends who decide to unwind with some sinful fun and frolic at a deserted farmhouse, but with a wicked twist of fate, the mansion turns out to be haunted. Things go horribly awry as people start getting brutally murdered. Is this a demon? Is it a ghost? Who dies next? The proceedings get darker and scarier as a sinister game of death begins.
It's not just the spooky factor that is generating a lot of buzz, the music of X Zone is of chartbusting quality too with singing sensations like Sunidhi Chauhan and Aditi Singh Sharma crooning tracks for the film. Not to mention, it is said to boast of a nerve-wracking climax that will leave viewers at the edge of their seats till the final moment.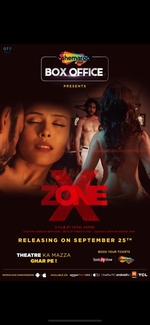 The 80's saw campy horror movies rule the roost in Bollywood, many of those gems gaining a cult following among movie buffs as time passed. Looks like ShemarooMe Box Office is going to recreate that ghostly era for fans with their latest release. So, what are you waiting for? Grab some popcorn, switch off the lights and tune on to ShemarooMe Box Office to catch X Zone. Viewers can book their tickets on the ShemarooMe website as well as BookMyShow.
X Zone, starring Hrishitaa Bhatt, Diandra Soares and Ganesh Yadav among others is directed by Faisal Kapadi and releases on ShemarooMe Box Office on the 25th of September 2020.