Vijayee Bhav are simply two words that give tremendous energy and strength to be victorious. The same guru mantra of success will now be seen on the big screen in the form of a movie. In the upcoming film Vijayee Bhav, the story of the game is intertwined with politics. The eye-catching trailer of this movie has just been launched. The trailer of Vijayee Bhav has received a huge response from the audience in a very short time as there is a glimpse of what will be seen in this movie which has been discussed due to its title.
The upcoming Marathi film 'Vijayee Bhav' produced by Swastik Motion Pictures Productions and presented by Kenil Entertainment, was produced by Kirtan Gordhanbhai Patel and Jagdish M. Pawar. The film is directed by Shailesh Patel and Atul Sonar. Following the news that Indian Idol fame Jagdish Chavan will be seen in the lead role in the film the audience's curiosity has increased as they got a glimpse of 'Vijayi Bhav' through the trailer. Although the film has a story based on kabaddi, there are indications that this game of kabaddi will be seen on the political stage after watching the trailer. The story of 'Vijayee Bhav' will unfold through various mediums like sports, love stories, politics, relationships, friendship. Director Shailesh Patel and Atul Sonar have said that the film is based on a slightly different storyline than the current one. From storytelling to acting and from music and lyrics to performance, the film manages to entertain the audience in such a complete way that it will bind them with their chairs till the end of the film, expressed the producers. The response to the trailer of 'Vijayee Bhav' is enough to prove it.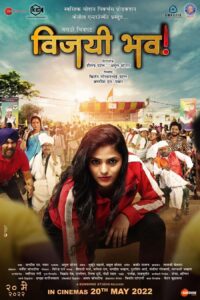 Along with Jagdish, Pooja Jaiswal is in the lead role in this film and Sonali Dalvi, Vinayak Ketkar, Jagdish Pawar, Vikram Mehta and other actors have also portrayed various personalities. The film is written by Jagdish Pawar and scripted by Atul Sonar. Mukund Mahale has written dialogues with Atul Sonar. Cinematography is done by Lalji Beldar and choreography is done by Vikrant Dev, Nody Rasal, Ram Devan, Deepak Turi. The compilation has been done by Dharmesh Chanchadia, while the background music has been provided by Swapnil Nangi. The lyrics written by Virendra Ratne have been composed by Kabir Shakya in the melodious voices of Jagdish Chavan, Kavita Ram, Manjima Goswami, Vaishali Made, Noora Singh Aade, Swapnali Chauhan. Kishor Sangani and Suresh Patil are the production managers of the film. Kashmira has done the costume design and Hamza Daginawala has done the sound designing. Fighting sequences are done by Fight Master Pervez and Shahabuddin. Sampat and Ashwin are the executive producers of the film. The film is set to release on May 20 across Maharashtra.