Bollywood is one of those industries that have tons of content to offer the audience and for every actor to see themselves molding into various roles is one of their biggest achievements. Essentially an actor playing and portraying a unique character is the wish of every budding actor and actress Sehnoor also reveals her thoughts on ways she wants to portray herself in front of all her fans and want to allure them with her performance.
When asked Sehnoor about the form of content that she wants to portray as an actress and want to be known for, the actress revealed that as an artist for me it is very necessary for me to mould myself in whichever character is being, and I would really love to challenge myself as an individual by experimenting on various roles and genres.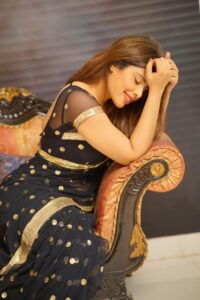 Talking about the genre and later on, the challenges and major changes the actress exclaimed, "I am a girl who is never satisfied with usual things in life, I really love challenging myself and testing myself as an actor that makes me describe just prominent characters. I would love to come out of my comfort zone and perform such roles which are physically and mentally very challenging as that would definitely evolve me as an actor."
It is certainly one of the best things to see actors challenging mentally, physically, and emotionally just to make their audience happy and proud of their role models.
On the work front, Sehnooor . Sehnooor rose to popularity for her excellent singing abilities in 'Badan Pe Sitare 2′ with Bigg Boss' Asim Riyaz and the actress will soon mark her Bollywood debut alongside  Bhojpuri actor Pawan Singh in the suspense thriller web series 'Prapanch'. The actress has a few more web series under her kitty which will be announced soon.