New experiments keep taking place in Marathi cinema, which is always experimenting. For the first time in Marathi cinema, the audience will get to see scuba diving. The movie shot underwater will appear on the silver screen. We have seen scuba diving in Hollywood as well as in Bollywood movies before, but the upcoming movie 'Gadad', will be seen on the screens in Marathi movies for the first time. A motion poster for the movie 'Gadad' has just been launched in presence of Meghraj Rajebhosale President Akhil Bhartiya Chitrapat Mahamandal, Producer, Director, Artists & Technicians.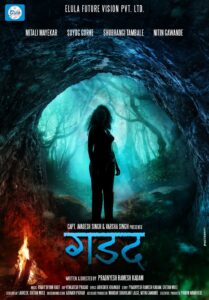 Under the banner of Ilula Feature Vision Pvt. Ltd., producers Capt. Awadhesh Singh and Varsha Singh have done the production of 'Gadad'. Director Pradnesh Kadam has been directing and writing the film. This is Pradnesh's first film as a director. In his debut, he has accepted the challenge of shooting with scuba diving. Shooting has started in Maldives and Goa immediately after the announcement of the film. On the occasion of this film, for the first time in the Marathi film industry, the audience will get to see the 'Gadad' i.e. dark underwater color. From the title of the film and the poster released, it is not clear what kind of story will be seen in it. So the curiosity about this film has increased. However, there are indications from the posters that the movie 'Gadad' will show a slightly different color than the current trend in Marathi.
Actors like Mitali Mayekar, Suyog Gorhe, Shubhangi Tambale, Nitin Gawande, Aarti Shinde etc. have roles in this film. The music is by Rohit Shyam Raut and the cinematography is by Venkatesh Prasad. Mandar Lalge and Nitin Gawande are the associate producers of the film and Praveen Wankhede is the executive producer. Abhishek Khankar has written the lyrics for 'Gadad' and Adinath Pohankar has provided the background music. The costumes are by Kiran Burade.