Ushering in fresh talent, the latest issue of well-known Bollywood magazine FASHIONIISTA features Salman Khan's sister Shweta Rohira and Faizan Ansari on the cover.
Gorgeous and multi-talented Shweta Rohira looks a stunner in the picture. She is featured with the handsome newcomer Faizan Ansari – the 6 feet tall upcoming talent in Bollywood. Incidentally the often seen at page 3 parties, Faizan has begun from the grassroots from auditioning at several reputed production houses.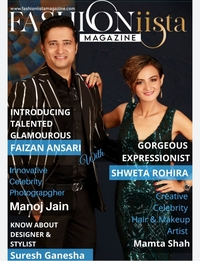 This youngster had to say, "I am grounded to the roots and the results would soon be out. But I shall never forget the guidance and support provided by Shwetaji for the cover shoot. Shwetaji is truly a good human being, so supportive and is true to adage BEING HUMAN."
The Editor of Fashioniista magazine stays true to their philosophy of encouraging creative talent with balancing the cover page featuring the elegant Shweta Rohira, who is a well-known celebrity, featured along with promising and talented Faizan Ansari.
Salman Khan who has three sisters Arpita, Alvira, and Shweta loves them a lot and is an ideal brother. He is always supportive to them and makes sure he's always there for them.