Saiyami Kher will soon be seen in R Balki's Ghoomer, an emotional and inspiring sports drama. Saiyami plays the role of a para athlete, cricket prodigy. Although she grew up playing cricket, this role was especially challenging since she had the role of a play a para athlete, something she had to work hard to get into the character of.
Saiyami says, "I play the role of a left-handed bowler in Ghoomer and, for me, in real life, I am a right-handed player. I could never actually step into the shoes of a real life para athlete, but even small hurdles I had to overcome being an athlete myself, reminded me of things we take for granted. Prepping for and filming for Ghoomer opened my eyes in a way that I never thought would happen going into it. It was a physical and emotionally challenging time, but my struggles were minuscule when compared to those heroes who make our country proud by participating in so many sports as para athletes".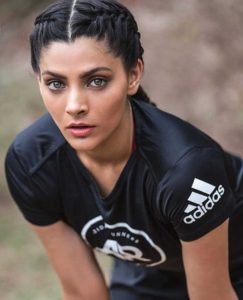 Ghoomer, which is expected to release in 2023 is a movie about a sports prodigy and also stars Abhishek Bachchan, Angad Bedi and Shabana Azmi in pivotal roles. Abhishek plays her coach and Angad Bedi plays her love interest in the movie. The film, which is currently in the post production stage, is co-written by Balki, along with Rahul Sengupta and Rishi Virmani, and is inspired by the story of Karoly Takacs, the late Hungarian right-hand shooter who won two Olympic gold medals with his left hand after his other hand was seriously injured.
Saiyami Kher made her acting debut with the Telugu film Rey (2015) and her Hindi film debut with Mirzya (2016), for which she received Stardust Award for Superstar of Tomorrow – Female. She made her web debut with Special OPS (2020).