Dilip Kumar sahab, the legend of Indian Cinema has left a legacy behind for every film aficionado to embrace and learn from. Today, December 11 marks his birth anniversary and the students and staff at Whistling Woods International (WWI), under the guidance of Mr. Subhash Ghai, Founder & Chairman of the institute commemorated the day by paying a tribute to the legendary thespian. The occasion was graced by Saira Banu ji, wife of the late actor and renowned actor, Dharmendra ji.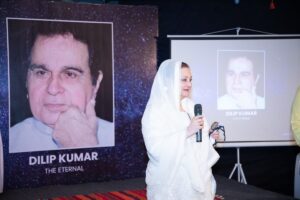 The highlight of the evening was the inauguration of the hyper realistic mural painting of Dilip Kumar sahab by Saira Banu ji and Dharmendra ji along with Mr. Subhash Ghai. Saira Banu ji appreciated the heartfelt tribute offered by the WWI students and staff. The mural painting was done by the faculty & students at WWI School of Creative Arts, Dept. of Animation & Game Design.
The occasion commenced on an emotional note as AVs paying ode to Dilip Kumar sahab was played for the guests, students, faculty and staff present for the evening.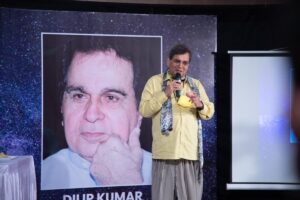 As the evening progressed, Mr. Subhash Ghai took the opportunity to share about the bond he shared with the late legend, Dilip Kumar sahab. Mr. Subhash Ghai said, "Whistling Woods International can never forget Dilip sahab. This institute belongs to him. Whenever people compliment me for WWI, I think of him." "Upon sharing the idea of starting a film studio with my earnings, Dilib sahab suggested to me to distribute the knowledge I have by building a film institute", he further shared.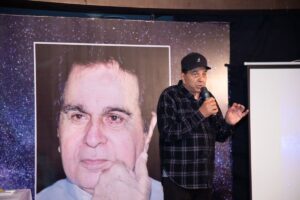 Remembering Dilip Kumar sahab, Dharmendra said, "Dilip sahab' birthday is etched in my heart as it's a very important day for me. When I met him for the first time, he never made me feel like a newcomer, always spoke to me like a family, making me feel like his younger brother."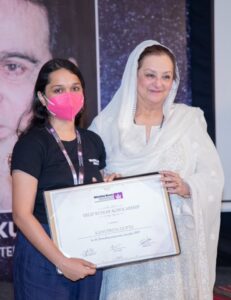 The day was further made memorable with the conferring of the Dilip Kumar Scholarship, which was awarded to Kanupriya Gupta, a student from the WWI School of Film making.
"I'm very happy to be here. Also, I'm happy to hear the stories shared by Subhash ji today. Though Dharam ji and Subhash ji remembered about the past, but for me Dilip sahab is always with me and his presence can never be separated from me", shared Saira Banu ji at the occasion.
The emotional evening came to a close with Mr. Subhash Ghai presenting Saira Banu ji with a memento featuring thoughtful words by the various celebrities of the Hindi film industry for Dilip Kumar sahab.