On the occasion of 22nd anniversary Sagarika Music launched the song 'Suvasini' from Retro V album. The ong is sung by Vaishali Samant. The original idea of the song and presentation is by Sagarika Das of Sagaria Music.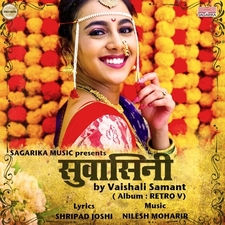 Sagarika Das said, "Suvasini song you can say marriage song of 1950s. The music is composed by Nilesh Moharir and lyrics by Shripad Joshi. The promos are picturised on Sayali Salunkhe."
Vaishali Samant and Sagarika Music's relation started when Vaishali sung the song 'Aaika Dajiba' and continued with popular songs Mast Chalyay Amche, Mera Dadla, Ghotala, Angani Mazya Manacha and many more. Now Retro V album has 8 retro style songs.