Dambulla Viiking a star team at the 2020 Lanka Premier League and owned by Sachiin Joshi is all-set to beat Jaffna Stallions at the semi-finals scheduled on 14th December 2020. The 2020 Lanka Premier League is the inaugural edition of the Lanka Premier League (LPL) Twenty20 franchise cricket tournament in Sri Lanka. Five teams based on various Sri Lankan cities played a total of 20 matches to get to the semi-finals. Colombo kings and Galle Gladiators are the other two teams who will be playing the semi-finals on 13th December.
On this occasion, Sachiin Joshi stated, "Dambulla Viiking have proved themselves to be the best noble warriors by getting to this stage and I have full faith in them that they will perform well in this game to get to the finals as well. The idea behind taking this team is to promote the youth, their talent, and our shared love for the sport. Any league in the world is to promote the sport, and the talent, and the institution of cricket, hopefully through LPL we get to contribute to this movement."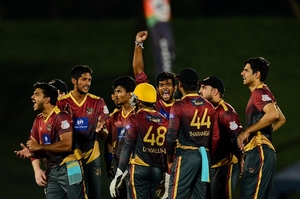 Hungry for expansion and blessed with a vision for the future, Sachiin Joshi is the man behind Viiking Ventures. Despite spreading his talents far and wide, with labels such as entrepreneur, businessmen, actor and sports & fitness enthusiast, all fitting Joshi to a tee, sport is arguably where Joshi's true passion lies. He is already a player and co-owner of the Celebrity Cricket League team Telugu Warriors, while he is also the driving force behind the JMJ Sports Academy. Joshi also enjoys playing football and cricket in his spare time. As such, when the opportunity came to acquire and promote an LPL franchise, Joshi didn't hesitate in seizing the opportunity.
The 2020 Lanka Premier League was played by five teams based on various names of Sri Lankan cities for a total of 23 matches. The tournament was given the green light to go ahead in November with all the matches being played at the MRIC Stadium in Hambantota, from 26 November to 16 December 2020.