Sitar Player and composer Rishab Rikhiram Sharma will be in Mumbai for his India leg of 'Sitar for Mental Health' tour and will be performing live at the 'Royal Opera House' on the 4th of February 2023. "Mumbai is also known as the Maximum City, it has everyone living in the fast lane. Mental Health interventions often take a back seat. I started this tour in New York and to my mind Mumbai is a very similar city, fast paced, a city that never sleeps and just the regular hustle. I think my presentation will be very relevant for Mumbaikars even if it is just to pause and breathe", quipped Rishab.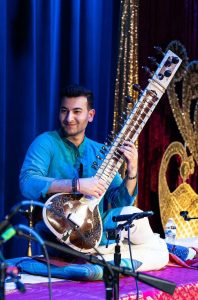 NY-based Rishab is popular on the new app Clubhouse, where he runs music rooms. At a time when covers are gaining popularity, Rishab constantly experiments with contemporary tunes on his sitar. He's done covers to another GoT song, called The Rains of Castamere (Lannister song) and The Pink Panther theme song that have got him "a lot of social media views suddenly, bringing Indian classical closer to pop-culture, one raga at a time.
Rishab began the Sitar for Mental Health Tour in New York, before bringing it home. In India he has performed across Delhi, Pune, Ahmedabad, Bangalore, Hyderabad and now Mumbai. Sitar for mental health musical evening is a multi-sensory-immersive experience designed to invoke states of deep reflection, receptivity, and introspection through music.  The Sitar For Mental Health Tour is presented by HSBC India, one of India's leading financial services groups. All instruments and organization of the tour is courtesy of Rikhi Rams Music and the artist is managed by a Mumbai-based agency, nrtya.
Date and Day- 4th February 2023, Saturday
Time- 7pm
Venue-   The Royal Opera House, Mumbai
Ticket Link-    https://insider.in/hsbc-presents-sitar-for-mental-health-by-rishab-rikhiram-sharma-at-royal-opera-house-in-mumbai-on-4th-feb-2023-feb4-2023/event
HSBC presents 'Sitar for Mental Health' by Rishab Rikhiram Sharma at Royal Opera House in Mumbai on 4th Feb, 2023 (insider.in)