Singer Reshma Sonawane and lyricist Haridas Kad, who sang the super hit 'Pappi De Parula', have now come up with a new hit song. The song 'Mala Nhay Re Kunachi Guaranti, Majhi Hi Ran Jawani 20' is airing on Saptasur Music's YouTube channel.
The song "Jawani 20 …" presented by Saptasur Music and Film Owl Studios has been produced by Sainath Rajadhyaksh. The song is composed by Nilesh Mali and Sandeep Hindalekar. Anuja Chaudhary and Priyanka Jadhav will be seen in the music video. Choreography by Kritik Mazire, Aniket K. Has directed the shadow.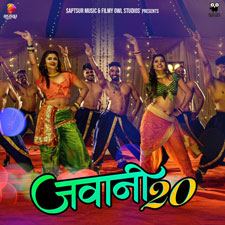 Reshma Sonawane has sung superhit songs in many music videos and movies so far. It includes many songs like "Pappi De Parula", "Hi Poli Sajuk Tupatli", "Waat Baghtoy Rikshawala". Lyricist Haridas Kad has also written songs like "Laya Bhari Pori" and "Pappi De Parula". So the duo of Reshma Sonawane and Haridas Kad as singer and lyricist is already a hit.
So far, the YouTube channel Saptasur Music has given a chance to many new lyricists, musicians and singers. While music videos that have made many artists great have become rare recently, Saptasur Music has released many new music videos in the last few months. They have also received a great response from the audience. Therefore, there is no doubt that Audience will surely like Reshma Sonawane and Haridas Kad's new song "Jawani 20.