This rarest of rare picture shows the first day of shoot with Mahima Chowdhary with an innovative n unique mahurat from the evergreen blockbuster PARDES at the Agra temple. Subhash Ghai n Mahima started with a small Pooja before shooting the very first shot at the famous Kailash temple at the banks of river Yamuna in Agra.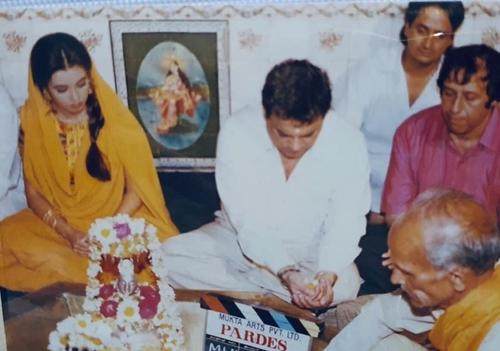 Showman of Bollywood had all his previous Mahurats in the big Bollywood style with celebrities etc but the highlight was for the PARDES mahurat was one of his units spot boy Bahadur Singh to giving the first mahurat clap instead of any other celebrity.
SRK the hero of PARDES and every one on the unit appreciated producer director Subhash Ghai to give so much respect to his last but important unit member.
A day to remember. …. PARDES ran for 50 weeks in theatres.