Producers Shailendra Kkumar and Suraj Sharma's upcoming mega historical film 1770 motion poster was launched on social media. The film is concept and created by Ram Kamal Mukherjee.The film is inspired from Bankimchandra Chatterjee's well-known Bengali novel Anandamath. SS1 Entertainment and PK Entertainment presentation, the film is made in six languages Hindi, Telugu, Tamil, Kannad, Malyalam and Bengali. The film will be directed by Ashwin Gangaraju who has been assistant director to Rajamouli for Egga and Bahubali. The film is co-produced by Sujoyy Kuttiy and Krishna Kumar B.
Motion poster link
https://drive.google.com/file/d/1IrHsi78wcbpqWvrUy3X7F03j25EpstHY/view?usp=drivesdk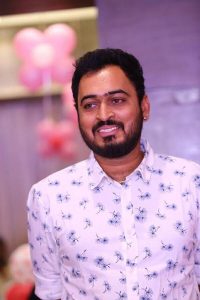 Ashwin Gangaraju says, "The subject is very challenging for me, but the way veteran V Vijayendra Prasad adapted the story and screenplay, I am confident that the way we have written it, it will be a blockbuster cinematic experience. As a creator, I am more drawn to stories that have a period setting, where emotions are more important, and where there is 'larger than life' presentation. At first I was a bit skeptical about this, but when I spoke to Ram Kamal Mukherjee and got to know his point of view about it, my confidence grew. Soon after that I met the producers Shailendra Ji, Sujay Kutty Sir, Krishna Kumar Sir and Sooraj Sharma in Mumbai. We had a long discussion about our film and how they wanted to take it forward. Because of their collaborative attitude, their warmth, I immediately connected with them."
This year marks 150 years of "Vande Mataram", the song that first appeared in Maharishi Bankimchandra's novel "Anandamath" and shook the roots of the British Empire. V Vijayendra Prasad, one of India's most famous screenwriters, says, "Vande Mataram" is I think that was the magic word. This was a mantra given by Maharishi Bankimchandra to the nation to fight against oppression and injustice. In "1770" we are dealing with the story of many unknown warriors who ignited the freedom movement.
The cast of the film will be announced by Diwali and Ashwin along with his team has started researching the period and will try to create a unique film.