The talented Rahul Verma, who plays Paritosh, the transgender in ALTBalaji's 'Helllo Jee', had a few exciting things to share with us. It turns out the effortlessness we see on screen with the actors and their portrayals of the characters isn't so effortless after all. Everyone had their methods to prepare for their various roles. Everything and anything required was done. They sometimes went overboard to ensure the roles were delivered to perfection.
To play his part perfectly, Rahul Verma got creative and binge-watched French movies like Danish Girl to get him into character and prepare him to deliver the role to the best of his ability. It turns out he watched Danish Girl, a story of a historical trans-person, and drew inspiration from there as well to play his role as the transgender in the series who joins hands with the women gang in the phone dating operation business.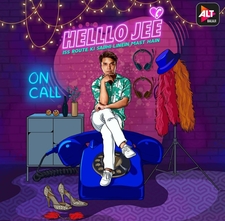 "Opportunities like ALTBalaji's Helllo Jee, don't come by every day, and I couldn't afford to let it slip away without giving it my best. Danish Girl truly is an iconic movie. It inspired me to be comfortable in my skin and play the part to the best of my ability. Satisfaction comes from knowing you have done everything you could've. I have also binged watch a couple of French movies to get into the skin of my character. Honestly, I am thrilled with the result as well couldn't have asked for more," said Rahul Verma, Actor (Paritosh).
Helllo Jee incorporates inclusivity everywhere. The story is about a group of women who find each other and lean on each other for support when life brings them down. They grow in strength when they unite and set up a phone dating operation business together to help realize their dreams. This unconventional and brave show is a lesson for everyone on acceptance and love for fellow human beings. These things are the bare minimum that one should do, but somehow people seem to forget that, making ALTBalaji's Helllo Jee a great reminder.
Directed by Shahnawaz Sabir Khan, the show's cast includes Nyra Banerjee, Mrinalini Tyagi, Akshaya Shetty, Kashish Rai, Dipali Sharma, Rahul Verma, and many others.
The power-packed Helllo Jee' roars girl power, and this binge-watch-worthy show is currently streaming exclusively on ALTBalaji!